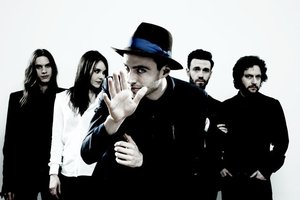 The Veils are hard to pigeonhole. Singer Finn Andrews has a powerfully emotive voice, and a real knack for visceral lyrics, but it's the band's love of contrasts that makes them stand out - melancholy pop mixes with snarling rock and expansive Americana in a way that seems timeless.
Their fourth album is a wondrous kaleidoscope; the driving, sweeping, mainstream indie-rock of opening track Through The Deep Dark Wood quickly gives way to the bleaker, more cinematic, Train With No Name. Then they get a little more whirlingly dramatic with the careening, Jack White-ish Dancing with the Tornado, full of gothic imagery such as "tombstone teeth".
The Pearl is a beauty, it's quiet, plaintive groove, which descends into a swirl of layers, somehow sounds like an old Kiwi classic, and "trying to keep real calm, try not to shake my drinkin' arm" says so much with so little.
Elsewhere, they get into a pounding, marching, anthem of heartbreak Sign Of Your Love, and Turn From The Rain introduces some triumphant horns.
The appeal of Andrews' work is that he isn't simply sad or disappointed with the world, he's haunted by its mysteries and delights. There's a sense of urgency and celebration in making the most of what's here, even though he's resigned to the presence of death and chaos.
Stars: 5/5
Verdict: Visceral, sometimes violent pop beauty
Click here to buy Time Stays, We Go by The Veils
- TimeOut