Another of the acts at this year's comedy festival answers our queries about their show.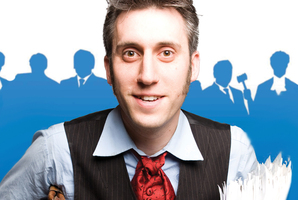 What sort of voice should we read your answers in?
My real voice is just another slightly wanky Australian lefty, latte-sipping, middle-class, pseudo-intellectual. You're better off picking one of the impressions I can do: Kermit the Frog, or Shaggy from Scooby Doo.
Are you worried about how you'll come across in print?
When I'm not a comedian, I'm a professional comedy writer, so print is what I do best. I'd be famous by now if I could just stand on stage and tweet my jokes at a screen. But, at the end of the show, I'd still have to get off stage and make small talk, which I find incredibly difficult. I'm much more worried about how I come across in real life.Describe your show in 10 words or less:
Comedian's worst nightmare: sued for "not being funny". Luckily: hilarious. That's pretty much it. The other 59 and a half minutes is padding.
Is there somewhere we can see your work online? If not, why?
I have a LOT of my jokes on the internet, unfortunately it's not usually me telling them. I've spent most of the last decade writing for much more famous comedians on satirical Australian television shows Good News Week, Good News World and The Glass House and the Melbourne International Comedy Festival's Great Debate. There are clips of all these shows online.
What does your mum think of what you do?
She's weirdly supportive. It's difficult to keep your credibility as a comedian when your mum keeps "liking" your Facebook feed.
Eight minutes into your show, all going well, what should be happening?
All going well we should see an end to human suffering, a new dawn of peace, and the whole world will spontaneously break into Pokarekare ana. Unless the US Senate have their say, then it'll all be guns, guns, guns. Meanwhile, at Q Theatre, I'll be talking about the time I freaked out a Jehovah's Witness.
Where are you usually when ideas or jokes come to you?
Usually in the shower. I go through a lot of laptops that way. But as a writer, I've had to learn to sit down in a cafe and write for eight hours at a stretch. It's good discipline for comedy, terrible for the cafe business.
What's more important to have as a comedian, youth or wisdom?
Being young is good if you want to be famous. I'd rather be wise enough to make 80 appreciative audience members view the world in a new and hilarious way, than be young and talk to 80,000 on the telly about my penis. (I'm not saying my penis isn't worth talking about, I'm just saying I'm wise enough not to go on about it in public.)
Who's your comedy hero, and why?
My first comedy idols were Bill Cosby, Tom Lehrer and Steve Martin, and there are many comedians I admire today: Eddie Izzard, John Clarke, Judith Lucy, Stewart Lee and so on. Paul Provenza and Simon Munnery are pushing the art form into new and interesting directions. But my comedy hero is whoever buys an actual ticket to take a punt on some actual live comedy in an actual live venue.
THE SOCIAL CONTRACT
Where and when: The Vault at Q Theatre, May 8-11.