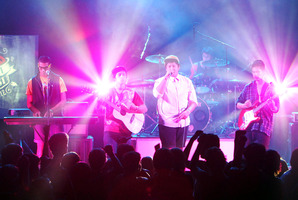 High school music competition Smokefreerockquest celebrates its 25th birthday when it kicks off this weekend.
And founders Pete Rainey and Glen Common, who still run the competition, have seen many changes since they put on their first event in 1989.
Back then the majority of the bands played covers (now the basis for the competition is original music) and this, together with advancements in technology and a big shift in young people's attitudes, has resulted in a far wider range of musical genres.
"The definable [music] styles have gone and kids are genre-busting and attempting to come up with their own unique sound," says Common.
"That said, metal endures - it's like cockroaches after a nuclear attack - it never really goes away."
These days the competition boasts a star-studded list of alumni, including Kimbra, Brooke Fraser, Bic Runga and Anika Moa, through to a diverse range of groups such as mainstream rockers OpShop, rowdy Dunedin punks Die!Die!Die!, and electro dance upstarts Kids of 88.
This year it starts with heats on Saturday in Nelson, then rockquest trips around the country for the next three months whittling down the wannabes before the national final on September 28.
The Auckland heats start with North Shore and West Auckland on May 25, Manukau on June 7, and Auckland Central on June 8.
For more information go to smokefreerockquest.co.nz
Top 5 best band names for 2013
* Fed-up With Fergus (Green Bay High School, Auckland)
Leader Fergus White must have been being difficult when the band chose their name.
* Hello Headache (James Cook High School, Auckland)
Either inspired by the morning after the school ball, or derived from the ear-splitting volume these guys whip up.
* Fell To Silence (Pukekohe High School)
Has to be a heavy metal band.
* Return To Sanity (Rutherford College)
Another heavy metal band, surely.
* DreaMScapE (Pukekohe High School)
Dreamy R&B soul pop, perhaps.
- TimeOut