X Factor NZ guest Natasha Bedingfield tells Lydia Jenkin about how she helped her brother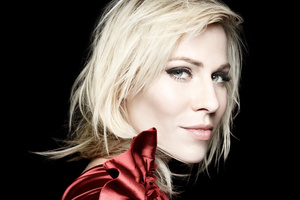 When X Factor NZ judge Daniel Bedingfield needed assistance to help him coach a bunch of under-25-year-old female singers, and try to choose his top three, he didn't have to look far - just as his pop star sister Natasha had followed him into the music business, she's now helping her big brother as a guest mentor.
Natasha began performing at the age of 14, was signed at 22, and released her first album, Unwritten at 23, so Natasha is well-versed in what it's like to be a young female in the music industry. That Unwritten sold 2.3 million albums worldwide and earned her Grammy and Brit Award nominations indicates she also knows a thing or two about delivering a song with conviction and charisma.
Then there's the fact that, like Daniel, she has a soft spot for New Zealand - their parents are Kiwis and many of their relatives live here.
"We come down as often as we can. Our grandparents and uncles and aunties and cousins are all there, and I've always felt a sense of belonging in New Zealand, so it means a lot to me to be involved," she explains down the line from Los Angeles, where she's finishing off her fourth album.
Of course that she got to go to Rarotonga for three days and spend some time with Daniel was also very appealing.
"Oh it was really fun in Rarotonga. I got to go in an outrigger and enjoy the sunshine.
"And working with Daniel was great because it was just talking. It actually felt very natural to come and help him make those decisions, so it was really nice."
Daniel clearly loved having her on board, too. "There is no one I trust more. Her opinions are golden and we were in sync with our decisions the whole time."
Natasha says she found the attitudes of the contestants inspiring.
"It was great seeing the hunger and the passion in the contestants, and that was something I could very much relate to in terms of how I felt when I first started in the music industry. It was good to be reminded of that. But I was also hoping to encourage them to see music as something they can express themselves through, and to say something they want to say, not just to try to impress people or please people."
Though there were no arguments between the Bedingfields during the retreat, Natasha happily admits there were some "intense discussions" with Daniel when it came time to deciding which three of his six would make it through to the top 12.
"It was really close, so many hard decisions. I was actually very surprised at how much talent there was. I think you get a bit of a view into what record companies go through when they're choosing whether to sign an artist or not, because it's not just about whether you like the person, you have to think, 'are the public going to like this person as well?' You hope they'll be the same."
Without giving away who got through, Natasha did have a couple of personal favourites.
"There was one girl I thought was absolutely world-class, and her name is Cassie Henderson. She just seemed to have the whole package and was able to bring the songs alive in a powerful way.
Song choice is always an important issue for contestants on the show, and Natasha was happy to offer some advice in that area.
"I like it when girls sing guys' songs. Or when guys sing girls' song. Basically, when you take a song and do it in a completely different way. And sometimes I do that in my shows, like I sing Purple Rain, and I love being able to put my own twist on it. Another song I love to sing is The Scientist by Coldplay. It can be a big mistake to choose a song that's, well, for example, maybe a girl choosing to sing a Whitney Houston song, because no one can sing it like she does."
Viewers, unfortunately, won't get to see Natasha sing during the show ("unless they bring me back in!") but if she were to get up in front of this judging panel, TimeOut thought she may have a good shot by singing Elton John's Daniel - his 1973 hit about missing an older brother. "Oh, I don't know it," she laughs.
"I need to check that out! I love Elton John, he and David [Furnish, his husband] are good friends of mine, but I haven't heard that one, I don't know why. I love his music."
- TimeOut