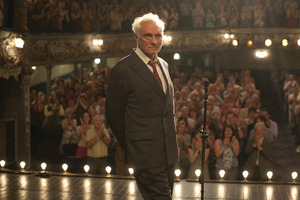 So toe-curlingly sentimental that it should come with a warning for diabetics, this appallingly anodyne British drama would have forced Noel Coward to reconsider his famous utterance "extraordinary how potent cheap music is".
The two leads, fine actors both, struggle valiantly in the Sisyphean task of lifting the script's dead weight. Redgrave, who manages to light up the screen as she invests the tiniest gesture with an almost unbearable pathos, has the better of it, since she exits around the film's mid-point; for Stamp, escape is a long way off, beyond a third-act crisis and a triumph as implausible as it is predictable.
The bastard child of Young@Heart and As It Is In Heaven, the film has Stamp as Arthur, the curmudgeonly husband of terminally ill Marion, whose main joy in what's left of her life is the local senior citizens' choir.
Arthur doesn't approve - he thinks the effort tires her out too much - and the teacher, Elizabeth (Arterton, so affectedly and self-consciously pretty you feel like slapping her) tries to charm Arthur into taking part.
If you don't know what happens next (the title is a clue), you haven't watched enough bad films, but I will spoil nothing for you by saying that Arthur is an assemblage of every old-bugger cliche you've ever seen.
We have no idea why he's so sour - or why his relationship with his mechanic son (Eccleston) is so bad; old men are just like that it seems, though quite why Marion would sing Cyndi Lauper's True Colours to such a grumpy bastard is never explained. Perhaps the cancer has reached her brain.
After Marion dies, we hear Arthur howl with grief from behind a door. It's a moment so pure and raw and real it seems to have been transplanted from another film: but there is not another authentic second in it.
It would take a hard-hearted man not to have a lump in his throat as the titular song is finally performed. I am that man. But if you regarded, say, Mrs Caldicott's Cabbage War or The Best Exotic Marigold Hotel as excessively downbeat and grimy, you will surely disagree.
Stars: 2/5
Cast: Terence Stamp, Vanessa Redgrave, Gemma Arterton, Christopher Eccleston
Director: Paul Andrew Williams
Rating: PG (coarse language, sexual references)
Running time: 93 mins
Verdict: Well-acted sentimental tosh
- TimeOu