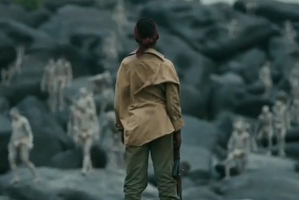 The casual brutality of guerrilla warfare is the backdrop for a story of courage with flecks of magical realism in this Canadian feature, which was that country's official entry for the best foreign film Oscar.
Director Nguyen is plainly a serious talent, although his own application of the adjective "Kubrickian" to this film may be overstating it, and he juggles the film's gritty and poetic elements with some grace.
Shot in the Democratic Republic of Congo, but set in a nameless African state torn by civil war, it tells the story of Komona (a spellbinding Mwanza) who, at just 12 years old, is kidnapped and conscripted by rebels in the film's opening minutes: worse, she undergoes the enforced initiation ritual of slaughtering her own parents.
The horror of that scene hangs in the air for much of what follows, though it is eased by a hauntingly beautiful and redemptive final stanza. In the interim we follow Komona for more than two years as she struggles to stay alive as a child soldier and learns "to make the tears go inside my eyes".
A young albino boy, whose odd appearance has earned him the nickname Magician, becomes her companion and brother in arms, and the moments when the two of them get to act like kids are bittersweetly funny.
Komona's survival is made more probable, and more precarious, by virtue of her anointment as the rebel leader's "war witch" because she is reputed to see government soldiers before they arrive. Nguyen cleverly exploits the cinematic potential of this piece of superstition, but be warned that the film is no starry-eyed spiritual experience. The gore is sparingly depicted - there isn't an extravagant moment in this film - but it doesn't want for impact.
A framing device has Komona telling the story to her unborn child in the hope that the birth can be a new beginning. In the context of her own single life, that does not seem impossible, But it is harder to be optimistic about the plight of the tens of thousands like her.
Stars: 4/5
Cast: Rachel Mwanza, Serge Kanyinda, Alain Lino Mic Eli Bastien, Mizinga Mwinga, Ralph Prosper
Director: Kim Nguyen
Running time: 90 mins
Rating: R13 (violence and content that may disturb). In French and Lingala with English subtitles
Verdict: Sobering and unsensational
- TimeOut