Pair of 7 Days regulars tour misunderstood cities in search of laughs as Homai te Pakipaki relaunches.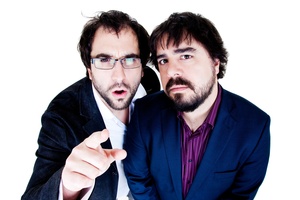 One of the problems with writing about television is that I have to look at more of the stuff than might actually be good for me. I probably watch as much in a week as the worst sort of TV-addicted kid.
Luckily I have similar tastes. I like to laugh out loud, for instance, at something stupid - and even better if it's locally made stupidity. Though when I say "stupidity", I don't mean it in a disrespectful way.
There's a pretty regular supply of just this sort of thing available on TV3 most Friday nights, often involving the comics from the channel's long-running 7 Days series.
Last Friday night at 9.30 marked the launch of Ben & Steve: World Famous In ... It's a short series of hour-long shows starring comedians Ben Hurley and Steve Wrigley as they visit some of our smaller, more misunderstood cities with live shows, some guest stars and a $10 documentary budget for a bit of integrated field footage.
Last Friday's show had them in New Plymouth on stage in a big theatre in front of a big and keen local crowd, including former MP and current mayor Harry Duynhoven, who the hosts gently inquired of, "Are you slowly demoting yourself?" to a hall full of laughs.
There was a woman with a broken leg in the front row, a netball accident - an iconic Taranaki injury, apparently.
Also singled out in the audience were several women Hurley - an ex-local - had dated. Under questioning, it turned out four had broken up with him rather than he with them.
The fifth recalled, "He just moved away". Hurley's chubby, bearded face for once was hard to read.
Out on the streets, the fun-seeking front men went in search of the local vibe, invading a burger bar for an ugly culinary experiment and inveigling their ways into a suburban living room for a dance party and a snuggle with the hostess.
Guest stars came on stage just when things might have sagged - though Dai Henwood contrived to make things sag anyway.
Much funnier was Vaughan King, who had an answer for lonely guys that involved a glove.
Another ex-local, radio star Jay Jay Feeney, was brought on for a quick roast and some token nudity.
It's all good, stupid fun so far. This Friday Ben and Steve are in Dunedin.
Meanwhile, there's no escaping the ongoing and ever-escalating attack of the TV singing shows, though they come in all shapes and sizes - not all of them slick juggernauts with budgets as big as Ben Hur.
Over on Maori TV, there's Homai Te Pakipaki, which came back last Friday night (8.30) for a new series with new hosts. This show's charm is all to do with its absence of flash and the fact that you might see someone in the studio audience holding a sign reading, "Go Mum".
Presenters Pikiteora Mura-Hita and Brent Mio laid on the down-home cuzzie-bro stylings a bit thick at first, but by the end of their first show, some sort of goofy chemistry had kicked in.
It's a karaoke contest, so there was an inevitable I Will Always Love You, not to mention a These Boots Are Made for Walking, but everyone sang like a pro and it made a change not having judges.
Though it's a pity, perhaps, that the alternative is a text voting set-up encouraging the whanau to support with their wallets - at 99c a vote with a maximum of 20 per phone.