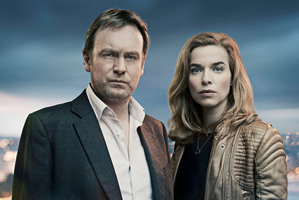 It's not every day you pick up the phone to hear Hollywood tough guy Harvey Keitel calling you rude names. But that's just what happened to English actor Philip Glenister.
Don't worry, Keitel meant it as a compliment. He'd signed on for the American remake of the offbeat British crime drama Life on Mars, taking on the role originally and memorably played by Glenister.
"I had no idea he was playing the part," Glenister says with a laugh. "The first thing he says is, 'Phil, you bastard, this is Harvey Keitel, and you played this f***in' part too good. How am I going to play this, you f***ing bastard?"'
Playing old-school cop Gene Hunt in Life on Mars and its follow-up Ashes to Ashes certainly raised Glenister's profile, but the actor has worked hard to show his range since the success of those shows.
The lead role in the four-part miniseries Hidden, starting tonight on Sky TV's UKTV, is one such example.
Q: Tell us a bit about Hidden and your character in it.
I play a guy called Harry Venn, who we think is just an ordinary high-street solicitor. But as the story progresses, we find out he's got a bit of a shady past which catches up with him, by means of a character called Gina, played by Thekla Reuten. She comes into his life to impart some information which embroils them in this heavy conspiratorial thriller.
Q: Shady past, you say.
He was involved in a botched house raid with his brother - Harry was the getaway driver - when he was about 18. In the process, his brother was shot and killed. He's lived with that for a very long time, and it's created a very tense relationship with his father, who blames Harry in many respects. Harry's now turned out to not be a very good father to his own son, who's heading off on the wrong tracks as well, so he's got a few issues going on in his life.
Q: Sounds like you got a fair bit to sink your teeth into.
Gene Hunt was obviously very overstated in places, whereas this is a chance to play very understated. You're watching a guy going through this process of getting embroiled in something that starts small and then suddenly involves the media and the Government. He's a part of it through no fault of his own.
Q: So he's not really your typical tough-guy hero? You're not throwing people around this time?
Not that many, actually. I'm on the wrong side of the interrogation table in this one, which was a bit confusing. Being thrown around a room, I thought, 'Hang on, I'm the one who does the throwing around.'
Q: Are you a fan of this type of genre?
Oh, yeah. We've had a lot of them here recently, and I think they've all been very, very good. I think what it boils down to is I just like a good story, something that engages you.
Something that's a little bit different and a little bit grown-up, if you like. And this has got that feel of something like The Killing or one of those European shows.
Q: You played Gene Hunt in the 70s and 80s in Life on Mars and Ashes to Ashes - any chance of seeing him in the 90s?
It's a tough one, because it was a great part and I loved playing him. Part of me says I'd love to play him again, but in the real scheme of things I think we've left it now. It's been done, and if we went back to it, it wouldn't be anywhere near as powerful. So I can't see it happening, no.
TV Preview
Who: Philip Glenister
What: Hidden, four-part conspiracy thriller also starring Thekla Reuten and David Suchet.
When: UKTV, 8.30 tonight.
- AAP