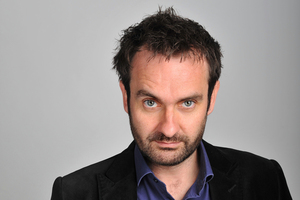 What sort of voice should we read your answers in?
A Welsh accent with a slight lisp might be fun.
Are you worried about how you'll come across in print?
Constantly. This Q and A is no help.
Describe your show in 10 words or less:
Word salad.
Is there somewhere we can see your work online? If not, why?
I'm on YouTube, gradually getting younger like Benjamin Button.
What does your mum think of what you do?
I've told her I'm at university studying to be a rodeo clown.
Eight minutes into your show, all going well, what should be happening?
I should be riding around on a unicorn as the Beatles re-form and play a special song for me, and the sold-out audience are chanting my name as a glitter cannon shoots chocolates into the night sky. Or I'll be talking about what happened to me last year.
Where are you usually when ideas or jokes come to you?
In bed, whilst travelling.
What's more important to have as a comedian, youth or wisdom?
Youth, because youth never fades, unlike wisdom which deteriorates as you grow older.
Who's your comedy hero, and why?
Al Murray, aka the pub landlord, who gave me loads of great advice when I was starting out.
THE KERFUFFLE
When and where: from tonight to May 11 at the Classic Studio.