The sheer power of the Welsh bass-baritone voice was thrilling.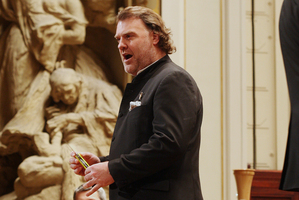 Within minutes, Bryn Terfel revealed to a packed Aotea Centre the artistry and artfulness that have put him in the top echelon of today's singers.
The Welsh bass-baritone launched Wolfram's celebrated hymn to the evening star with quivering passion, although Wagner's big tune was transcendently smooth, in long effortless phrases, ending with the bravest of whispers.
One might have thought that Wotan's Farewell would not be able to compete with Terfel's appearance, on DVD, in the Met's recent Ring cycle. But no, in the flesh one thrilled to the sheer power of the man's voice, uncluttered by distracting histrionics.
Around him, Tecwyn Evans, with the New Zealand Symphony Orchestra, created a veritable Valhalla in sound.
Auckland's traffic problems caused me to experience the orchestra's Tannhauser Overture courtesy of a lobby monitor, but, in concert, the young and solicitous conductor was not only a deft accompanist but even brought a brooding gravitas to Lilburn's Aotearoa Overture.
Having got the serious stuff out of the way, Terfel returned after interval in full boyo mode.
Undimmed house lights "feel better," he told us. "I can see you now." He was worried, he added, that we might not be happy with his singing.
After a roar of assurance, he romped through the flashy villainy of Son Lo Spirito from Boito's Mefistofele. His penetrating two-finger whistling brought on a raucous round of the same from the audience.
The Broadway offerings were slight - a pity this, when Terfel has Rodgers and Hammerstein's full-scale Soliloquy in his repertoire. A wistful waltz through "Oh What a Beautiful Mornin" (admittedly with an effective vocal chorus from the orchestra) was no substitute.
Mack the Knife would have cut more deeply with less orchestral baggage, with pizzicato strings disappointing after the venue's much-vaunted acoustic makeover.
For me, encore time started with the final bracket of English and Celtic ballads that work well for the singer. When two encores did come, the second was All Through the Night. It was sung in Welsh and morphed into Pokarekare Ana, providing yet another singalong for rapt fans.
Review
What: Bryn Terfel and the New Zealand Symphony Orchestra
Where: Aotea Centre
When: Saturday.