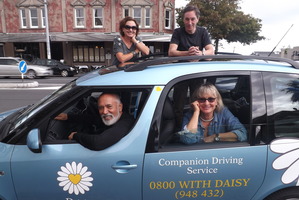 If there's one thing George Henare can't do to prepare for his latest role - as chauffeur Hoke Colburn in the play Driving Miss Daisy - it is draw upon his own driving experiences.
The 67-year-old actor has never had a driver's licence, owned a car or driven himself or anyone anywhere except, as he admits, nearly to distraction during driving lessons which proved so disastrous, he opted not to get behind the wheel again.
Henare has always used public transport or walked, and suspects he is fitter for it.
"I tried to learn to drive in the 1960s and 70s and had the most patient people to teach me, but I just couldn't get the hang of it," he recalls. "I had a problem with the whole spatial thing and used to panic at intersections, so I decided the world was a safer place without me driving - and my friends and family agreed."
The role of Hoke returns Henare to the southern United States, a territory he has visited three times before in the musical Porgy and Bess, which launched his acting career back in the 1960s.
It doesn't matter that he can't drive because that's just Hoke's job; it is who Hoke is as a person Henare wants to relate to. He describes Hoke as a lovely man who is patient and long-suffering but resilient enough to cope with the cantankerous Miss Daisy Werthan, played by Henare's long-time friend and colleague Annie Whittle.
Although the play won writer Alfred Uhry a Pulitzer Prize in 1988 - a year after its off-Broadway debut - it is the Academy Award-winning film, which starred Morgan Freeman, Jessica Tandy and Dan Aykroyd, that most people are familiar with.
Both the play and the film span 25 years, starting when Daisy, aged 72, crashes her car. The accident prompts her son, Boolie, to hire a driver so his mother can retain a degree of independence but, conscious of the cost and affronted by the implication she is past it, Daisy takes her time to come round to Hoke. However, in the best of odd-couple pairings, the duo come to rely on one another far more than they'd ever expected, finding strength in their friendship to face change, prejudice and civil unrest.
Henare and Whittle appeared together last year in Death of a Salesman and before that, played husband and wife in Roger Hall's Four Flat Whites in Italy. Not surprisingly, there's an easy-going familiarity between them.
They have seen the film Driving Miss Daisy, adapted from the play, but agree it is too "cluttered" with other characters to be useful preparation for the stage; Southern accents, they say, might seem easy, but can be difficult to maintain with any consistency during the course of a performance. There will also be challenges for them in ageing 25 years as their characters do. With no time between scenes for a makeup artist to go to work, Whittle says the illusion of ageing will have to come through speech and physical movement.
Similarly, Phil Peleton, who plays Daisy's son Boolie, goes from 40 to 65 during the course of the play. Peleton admits he got a shock when he landed the role. Like many who have heard of Driving Miss Daisy, he assumed Boolie was a smaller role than that of Hoke and Daisy, but it is Boolie who provides a narrative link and a vital third dimension by offering a younger viewpoint.
"I thought it would be easy," says Peleton, "and that I could enjoy watching George and Annie do their thing, do a couple of small scenes with a few lines and leave the stage but no, it doesn't work like that."

Performance
What: Driving Miss Daisy
Where & When: The PumpHouse, Takapuna; May 8-19