Leena Tailor talks to the The Following's Kevin Bacon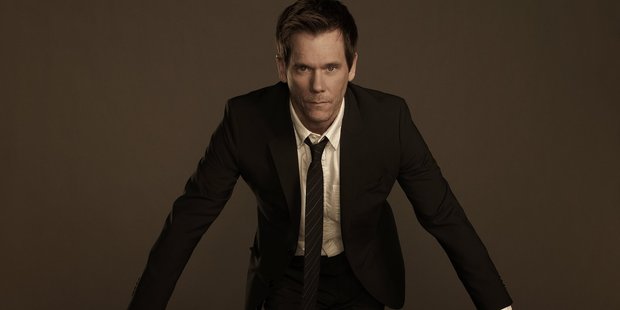 He may have risen to fame making ladies swoon in 80s blockbuster Footloose, but three decades later it's the gritty world of serial killers that has brought Kevin Bacon newfound success on the box.
The 54-year-old actor stepped away from film to take on his first major television role in TV One thriller The Following. He tells Living he spent time hanging out with FBI agents to prepare for the part of Ryan Hardy, an agent on the hunt for an escaped killer.
"I was sitting with an FBI guy who told me he had tracked and put away a serial killer. The guy had killed 40-something people and it was a case that just landed on his desk and he put all of his focus on it. When I met this guy I could tell that the highlight of his life was when he was waking up every day and trying to bust this killer - and that things have not been that interesting to him since. So that's what I've focused on with Ryan."
While Bacon met FBI agents, British actor James Purefoy, who plays the killer, Joe Carroll, became engrossed with stories from real-life criminals.
The star of HBO series Rome "sat in a darkened room watching serial killer interviews on YouTube for days and days", an eye-opening experience which unearthed some patterns about the killers.
"I based this character on three real serial killers and really looked into those men. As far as I can tell it's all about powerlessness, often when they were a child and had an abusive father, drunken mother, sexual abuse or something that made them feel powerless. Then as they grew up they had a desperate urge to exert power, mainly over women."
With the finale approaching this month and the series picked up for a second season, Bacon has successfully made the transition from film to television schedule. He says watching his actress wife Kyra Sedgwick star in her show The Closer for seven years helped him prepare for the change of pace.
"Movies are hard. I've shot a lot of movies where you work really, really hard. Television is hard too and certainly an hour is difficult, but I've had a good second-hand sense of it from seeing Kyra on The Closer. And also from directing, I know the kind of hours you have to put in."
Bacon doesn't plan to take the director's chair on The Following - "directing yourself is harder because there's just no time - forget taking a nap or even taking a leak!"
And though fans of the celebrity couple would love to see Emmy-winning Sedgwick, 47, guest-star, he doesn't intend to bring her on.
"She loves the show, but it's always a weird thing with us working together because we don't want to do something that takes people out of the reality of the show.
"We try to suspend disbelief all the time and if you have in your head [while watching], 'Oh wait a second, they're married,' it stops that. So you've got to choose projects you work on together very carefully."
Though they may not work on this thriller together, the couple - married for 24 years with two children - do watch spine-chillers together.
"Kyra went to Sundance one year and somebody handed her a DVD," says Bacon. "We didn't know anything about it so we popped in The Blair Witch Project without knowing it wasn't real. We were up alone in the country watching this thing and I've got to say - it was scary! Then I heard something in the backyard and had to go in the middle of the night to check it out. That movie definitely got me."
• The Following screens on TV One on Mondays at 9.30pm.