Sarah Lang finds out what's behind the gritty realism of Harry.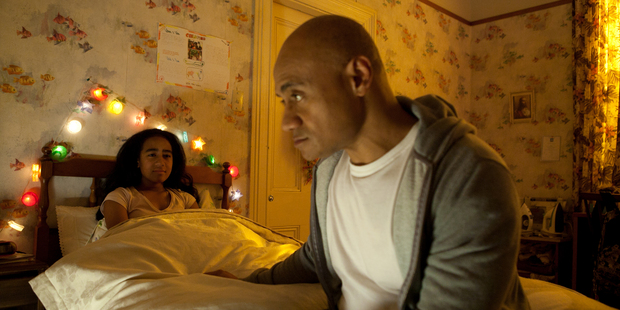 The champagne must have flowed at production company Desert Road when Sam Neill signed up for crime series Harry. The acting legend came to his first role in a New Zealand drama series through his friendship with Oscar Kightley, Harry's co-writer and leading man. Kightley plays Detective Harry Anglesea, Neill plays his manager, mentor and mate Stocks, and the actors go together better than a burger and fries. "I'm already pretty excited about the opportunity to do Harry," says Kightley. "Having Sam Neill in it lifts that excitement to another stratosphere."
The six-part crime series was made with $3.5 million from NZ on Air's Platinum Fund.
Before the opening credits roll, we see a posse of South Auckland meth dealers force their P-addicted dupe Lua (Beulah Koale) to commit an armed robbery. With the same crew suspected of multiple armed robberies and two murders, the top dog at New Zealand's biggest police station "The Hub'' is demanding an arrest to shut up the NZ Herald. Luckily for the Major Crime team, top detective Harry Anglesea is back from a month in Samoa after a mysterious tragedy so traumatic he's made to see psychiatrist Dr Boucher (Theresa Healey).
Like hit Brit series Luther and Prime Suspect, Harry is driven by character rather than plot, to the point that it borders on psychological drama. Like Mad Men's Don Draper, Harry has a protective shell that shields inner turmoil.
Outwardly, he's an admired, dogged detective with great gut instincts. Inwardly, he's a barely functioning human being: drinking too much, barely sleeping, and not making enough time for distressed daughter Mele (Hunter Kamuhemu).
Although Harry is the heart of the show, the criminals get a human face too. Koale brings an emotional rawness to the part of Lua. Though he's a killer, he's also a victim of the meth dealers who push him around, literally and figuratively. Helping blur these lines between good and bad, black and white, are deftly juxtaposed cuts between Lua and Mele crying, and Lua and Harry lost in thought.
Something else that impresses about Harry is the way it feels rooted in the real world. To make the show more believable, a retired detective fed the scriptwriters insight from real cases, criminals and police, as well as all the fiddly procedural details.
Consequently, the criminals are menacingly credible and the office politics between the cops rings true.
Harry gets top marks for style as well as substance. The handheld camera and grainy look give the show an almost documentary realism. The washed-out-looking city is one we recognise as we go from Ponsonby to Karangahape Rd to Otara. We see some waist-up nudity, 3 News clips, the front page of the NZ Herald.
This opening episode sets the scene well, introduces the characters, and reveals just enough of the storyline to intrigue us.
• Harry premieres on Wednesday, TV3 at 9.30pm.