Break open the dress-up box and polish the tiaras because the Disney princesses and heroes are poised to glide back into the country in a new show. Dionne Christian previews the ice spectacular in Jakarta, Indonesia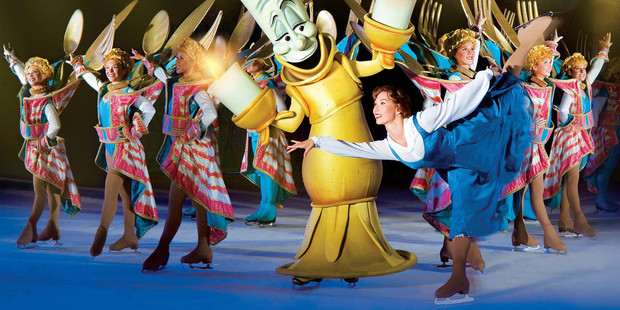 Best opening act
No sooner has the show started, street urchin Aladdin is fleeing from the Sultan's guards, which involves abseiling from the 12m-high Pixie Hollow set. He flies 9m above the ice to land smoothly at the far end of the stage. You can hear the collective intake of breath and "whoa" echo around the stadium as Aladdin thrills without a spill. It sets the scene for the gravity-defying moments and action-packed stories to follow.

There are eight featuring Disney's favourite princesses: Jasmine, Snow White, Belle, Little Mermaid Arial, Sleeping Beauty Aurora and the more recently crowned Rapunzel and Tiana, while Tinkerbell, Mickey and Minnie Mouse, Goofy and the Seven Dwarfs are along for the ride, too.
Sweetest dress
There are so many it's a close-run thing to pick the sweetest princess dress. The total number of costume pieces is close to 750 and each cast member (there are 42) changes on average five times during the 90-minute (including interval) performance.
Snow White's blue, red and yellow number is iconic, graceful and clearly a crowd favourite, judging by the number of little girls dressed as Snow White. But it's Aurora, from Sleeping Beauty, whose sparkly pink diaphanous dress is the stuff that princess dreams are made of.
While we're speaking of costumes, special mention must go to the dancing cutlery in Princess Belle's big scene - those knives, forks and spoons aren't light, so to glide elegantly across the ice with a cutlery set like that strapped to your back is quite a feat.
Coolest prince
Snow White's prince, played by Sacha Lalonde. The former Canadian national ice-skating competitor remembers watching Disney movies on Sunday nights as a child.
He started skating when he was 6 and performing in Disney on Ice shows 11 years ago.
Not only does Sacha play a dashing prince, backstage he also comes to the rescue of many a skater in distress. He's an expert at sharpening ice skate blades, which need regular maintenance.
Best special effect
It's special in itself to set up the ice rink, especially in a city as tropical as Jakarta.
Stage manager Jimmy Sagehorn likens it to constructing a giant refrigerator because it takes about 30 hours to unpack a series of giant and interlocking panels (the stage can be a maximum 42m long by 19m wide), turn down the panels' temperature and wait for ice to form.
That aside, there are many dazzling moments involving costumes, lighting (it takes 7.2 hours to programme lights for each minute of the show) music and breathtaking skating, but the fire-breathing dragon in Sleeping Beauty wins. The dragon, fluorescent pink and green and orange, exhales fire which, thanks to a special pyrotechnic compound, sets the ice ablaze for a brief moment and sends hearts racing. Who says fire and ice don't mix?
Most chilling villain
Maleficent, the self-proclaimed Mistress of All Evil, from Sleeping Beauty is by far the most frightening of them all. Standing atop Pixie Hollow, now transformed into her lair, she is colour co-ordinated with her dragon and looks equally mean as she tries to keep Prince Philip from awakening Sleeping Beauty with true love's kiss.
Most loved-up
That's Little Mermaid Arial and Prince Eric, played by Irina Bogomolova, from Russia, and South Africa's Gareth Echardt.
The duo married on a beach in Thailand two years ago after meeting when they joined the touring show four years ago.
Best non-skate mode of transport
Cinderella's sparkling carriage is pulled by two (model) horses and lit by some 2005 fairy lights. It's 3.4m long, 1.8m wide and has a nifty booster seat, no doubt offering a spectacular view across the ice. The boat, in Arial's big number in The Little Mermaid, is also pretty special - though not as twinkly as the carriage.
Hottest music
The routine for The Princess and the Frog, one of two new additions to the Disney Princesses and Heroes show, is set to the beat of a New Orleans jazz, zydeco, blues and gospel styles, so it's guaranteed to get the toes tappin' as Princess Tiana and Prince Naveen strut their stuff. Then again, any tale with a feisty protagonist who lives in New Orleans and wants to open a Cajun restaurant was always destined to be one of the zestiest Disney stories ever.
Cinderella story
Performance director Rebecca Andison, 32, grew up on Thetis Island, a Canadian Gulf Island home to 350 people, located between Vancouver and Vancouver Island.
She started figure-skating when she was 13 and didn't mind having to rise in the small hours of the morning to catch a 5.30am ferry to Vancouver to skate, go to school, skate again and return home in darkness. "I did my homework on the ferry."
Andison's school careers' counsellor told her there was no future in skating, she would never make any money and she should opt for a more "traditional" job.
Andison didn't listen, started skating in Disney shows at 18 and now travels the globe co-ordinating Disney Princesses and Heroes and other shows. Who says dreams don't come true?
Most cast on the ice at any one time
Aladdin's opening number with Jasmine, A Wish Granted; Arial and Eric's A Splash of Hope and A Mermaid's Wish; and the closing Princess Wishes feature the most performers on ice at any one time. The Under the Sea scenes are possibly the most colourful and liveliest. Nearly the entire cast takes to the ice, decked out in the brightest costumes to play Arial's marine mates - schools of fish, Flounder and Sebastian, boat-steering Sirens, Arial's mermaid sisters - and Eric's buccaneering naval crew who perform awesome acrobatics.


Disney on Ice's spectactular Princesses and Heroes tour reaches New Zealand May 15 (Wellington's TSB Arena until May 19, Christchurch's CBS Canterbury Arena May 24-26, Auckland's Vector Arena June 1-3).
Heroes and hearts prevail, with eight of the most-loved princesses: Ariel, Aurora, Jasmine, Cinderella, Belle, Snow White, Rapunzel and Tiana with Prince Eric, Prince Philip and Aladdin, evil Maleficent, dragons and more in breathtaking skating, daring acrobatics, high-flying jumps and plenty of charming friends.
Auckland tickets from Ticketmaster, ph (09) 970 9700 or ticketmaster.co.nz
Tickets start from just $28.50. (Wellington, Christchurch shows via Ticketek
ph 0800 842 538 or ticketek.co.nz
For more information, visit disneyonice.co.nz