Sir Graham Henry may know how to win a World Cup but his wife knows how to reel in the big one. Snapper, that is.
Lady Raewyn Henry "can out-fish her husband any day", says iTM Fishing Show host Matt Watson. But she wasn't on board his boat on Wednesday when a predatory mako shark snatched the swordfish off his line. "The shark managed to get most of the fish, but we reeled in some of it," Watson told The Diary. "But it was hairy. There'll be a lot of that fish floating around Northland."
Watson's no stranger to fishing - or hairy sea adventures. His celebrated television fishing show kicks off its 10th series tomorrow with the help of some famous Kiwis.
Lucy Lawless, whose family have a bach near Watson's holiday home, volunteered to promote the show, as did Shane Cameron and Marc Ellis.
"We shot some screen grabs with Lucy on the day the Rainbow Warrior came to town," Watson said.
"We're good friends. We spend Christmas and New Year together sometimes. Her husband Rob [Tapert, the Hollywood producer] is fishing mad. So is her son Julius."
Celebrated soprano Dame Kiri Te Kanawa is also surprisingly good with the rod. "Kiri's mad on fishing. Every year she asks for a box of our fishing show DVDs to give away to her friends," he said.
Songwriter Jamie McDell is not bad either. Watson was gobsmacked when the young pop singer reeled in a 25kg kingfish - his biggest guest hook ever.
"Rugby players are rubbish in comparison," he chortled. "The All Blacks are terrible at fishing ... No, that's a bit unfair," he quickly adds, trying to be diplomatic.
Watson says it's the sports stars who are most keen to get on the boat. "I've had just about the whole All Black squad out, nearly." Richard Kahui and Rene Ranger donned wetsuits for a dive and the Henrys are regulars. Ted and Raewyn hit the high seas with Watson last week.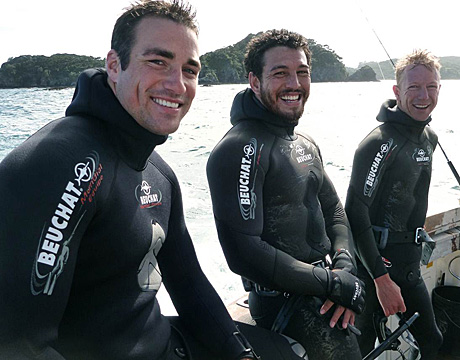 "I met Graham years ago and I promised he could come out on the boat when he won the World Cup. That was in 2007 - and he lost. He had to wait another four years. But he got in touch and said, 'You owe me a fishing trip'."
The new series of the iTM Fishing Show (TV3, Saturdays 5.30pm) promises more adventure. Cameras are attached to kites for overhead viewpoints and a specially built deep sea camera can follow the lure underwater. Watson says getting unique footage is what the show is about.
Not so funny
In the week of a much-lauded comedy festival it's fair to expect a few giggles, but comedians Jeremy Elwood and Irene Pink weren't laughing when their Twitter tete-a-tete turned into a political party lament.
Elwood, not taking kindly to the way a right-wing commentator responded on Twitter to the news Parekura Horomia passed away, harrumphed: "You know someone just died, right? I want to think you don't because the level of f**ktardness if you do is inexcusable."
The irony wasn't lost on Irene Pink, who reminded Elwood of his reaction to the Iron Lady's death. "You were awful re Thatcher's death and then hypocritically criticised someone else for being insensitive," she tweeted. "Dancing on graves means you lose your righteous card."
But left-leaning Elwood was unrepentant. "I will never apologise for dancing on Thatcher's grave. She was my personal Hitler."
Bloggers from the political divide swooped in and the debate quickly turned ugly. As far as punch lines go, perhaps funny men should steer clear of farce.
Fashion for children
Expat Kiwi designer Emilia Wickstead, a favourite of Kate Middleton, is moving into children's wear. The new mum told Britain's Telegraph designing clothes for tots is on the cards. "It's something I'm certainly very interested in."
The Duchess of Cambridge is sure to be a customer. So too, the jetsetting mums of our celebrity bubs who are fast racking up designer wardrobes.
Jessica Williams - the infant daughter of Auckland Blues captain Ali and fitness guru Casey - is already sporting bespoke footwear: adidas trainers with her name emblazoned on them. Look out Suri.
Fisticuffs on the dance floor
So heated is the competition in the upcoming boot camp episodes of X Factor NZ, it was fisticuffs on the dance floor.
"OMG, both were really strong women," gushed our mole, "but neither wanted to back down and it escalated into a fight and full-blown screaming match. They had to be pulled back by another contestant."
Oooh fight. That'll make for good telly.
Some 120 acts take part in the X Factor boot camp. They get whittled down to 60 on the first day, then it's a cut-throat cull to the 24 best acts who will go on to the judges' retreats.
Yachting fundraiser
Yachting adversaries will put their squabbling aside at a black-tie dinner tonight to raise funds for colleagues David Barnes and Rick Dodson.
The two former sailors (they've competed in nine America's Cup Regattas between them, winning two) are multiple sclerosis sufferers and have joined forces with Andrew May (disabled in a car crash at the age of 18) to compete in the three-man Sonar class at the 2016 Paralympics Games.
Sir Michael Fay said the Kiwi yachting community owes it to help them see gold in Rio. "For the last 10 years David and Rick have watched their former crewmen live out dreams they once had while they sat sidelined by MS, but now they have a chance to get these dreams back by competing in Paralympic sailing," Fay said.
Warring syndicate bosses Sir Russell Coutts (Oracle Racing) and Grant Dalton (Team New Zealand) will even share the love with keynote speeches.