Tom Green is as mad as hell and his fans love him for it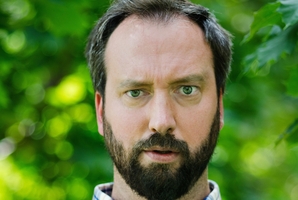 Tom Green has used new-fangled technology to make a success of himself in this big bad world we live in.
And judging by the sold-out crowd at his first New Zealand show, the former MTV larrikin, comedian, actor, and ex-husband of Drew Barrymore, is still doing fine following his return to the stand-up stage a few years back.
The thing is, he worries (quite a bit) about what effect technology - from Facebook ("the conspiracy of our time") to camera phones (dangerous and manipulative, in his mind) - has had on the world.
And in that trademark unhinged and mischievous style of his, that's what he raves about mostly during this show.
Also, to please his many MTV-era fans and devotees of his infamous 2001 film Freddy Got Fingered, he also delves into "the hits", like "humping a dead moose" (which Eminem referenced in his song The Real Slim Shady) and trading Freddy lines with the many rowdy fanatics in the crowd.
For such a slow-moving and dopey looking character, Green is wild and intense.
He goes in for the kill early on when one punter takes a photo of him, blinding him with the flash, and calling them "a f***ing pr***". He's only joking. Kind of. And tells the culprit to post it on their Facebook page because there are still tickets left for his next show.
The thing is, Green hates Facebook and implores the crowd to boycott it and "deactivate" their page. He prefers a far simpler time, like the 70s and 80s when he was growing up. A time, he says, when a kid could get high on Twink (yes, he did his Kiwi homework) and run around with a "lethal weapon" like a compass.
While topics such as Facebook and harking back to the good old days might seem like old comedy fodder these days, Green carries it off well by mixing his immature schtick of old with his, well, slightly more mature perspective as a 41-year-old ("I'm practically f****** dead").
The more puerile elements are for his cult fans (of which there are many), but there is also something for everyone, with many of the show's highlights being his random observations about everything from putting his beer down on the soft cushion of the bar stool ("you worry about it") to pondering why there's no cheese in Chinese cooking ("You eat a tiger penis. But no cheese?").
Tom Green also performs tonight, 9pm, SkyCity Theatre
Who: Tom Green
Where: SkyCity Theatre (also appearing there tonight)