Escapist television doesn't get much better than Revenge, writes Nick Grant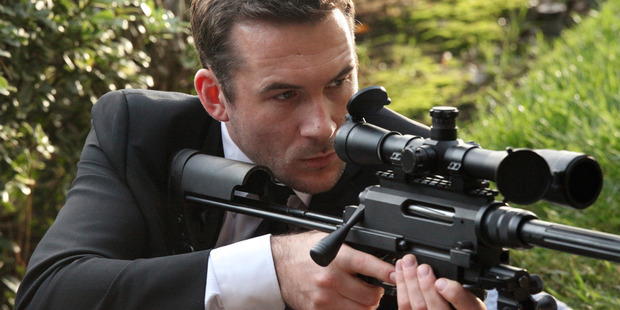 Suggest to Barry Sloane that Revenge, the glossy hit melodrama in which he stars, doesn't exactly strain for plausibility in its storylines and he laughs in wholehearted agreement.
"Oh yeah, whenever we all sit down to read a new script, there are always audible gasps, you know what I mean?" he says in a Liverpudlian accent much thicker than the one he sports on the show.
"All the things that would happen over one year on an average show happen in one episode of Revenge. It's crazy, but it's fun."
Of course, Sloane notes, the essential nuttiness of the show, which is loosely based on The Count of Monte Cristo and centres on the efforts of one Emily Thorne (played by Emily VanCamp) to wreck vengeance on the super-wealthy Hamptons inhabitants who wronged her family, means it's all the more important the cast make their characters as emotionally relatable as possible.
"At the end of the day, people will buy any plot as long as there's an emotional connection and they care about the characters they're watching," Sloane says.
"I think Emily did a superb job of making that connection last year, especially considering you're talking about someone who's trying to destroy people's lives.
That's what I've tried to do with my character, build on the great work of the writers and make him a genuine three-dimensional person, so you see where he's coming from, and feel his pain, his hurt."
That character is Aiden Mathis, a mystery man from Emily's past who has played an increasingly important role in the show's sociopathic shenanigans.
Extensive flashbacks revealed how Emily and Aiden first met and became Takeda trainees together, sparking a romantic relationship that ended when he abandoned her to pursue his own family-related vendetta.
For Sloane, the toughest aspect of Revenge isn't keeping track of the beyond-baroque plotting (something he demonstrates an impressive grasp of), it's the brutal time constraints the show is made under.
"We shoot each episode in eight days and then we have two days off when we're getting another script and doing all our prep for the next one, so it's constant," he says.
"You've got to pull the rabbit out of the hat sometimes, because you haven't had time for any rehearsal."
Given how polished the show looks, you wouldn't pick it had such a punishing schedule.
"Oh, the production values are unreal," Sloane agrees, "and I say that coming from British TV, which I love. It's fantastic, but it just doesn't have that kind of budget."
With just three of season two's 22 episodes left to shoot, "we've got the finish in sight now," says Sloane. "Everyone's a little bit fried and the final three are going to be huge, so we've all just got to push through. Then we'll get a little break and, all being well, we'll be back to do season three."
Surely Revenge's return is assured, given its enormous international success?
"Yeah, well, I never like to tempt fate but it is going incredibly well," concedes Sloane. "We all feel so privileged to be part of something that's a worldwide phenomenon."
There's no danger of that success going to his head, though, even with parts in two upcoming movies (Darren Aronofsky's Noah, with Emma Watson and Russell Crowe, plus Penthouse North, with Michael Keaton and Michelle Monaghan).
"My family all still live back in Liverpool," he laughs, "and they make it very easy for me to keep my feet on the ground, don't worry about that."
• Revenge screens on TV2, Tuesdays, at 9.30pm.