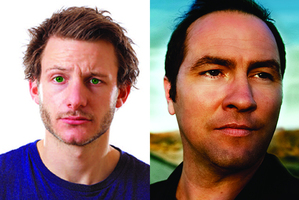 They aren't in fact billed together, but Britain's young gun Chris Martin and American veteran Tom Rhodes create a great comedy face-off in their respective festival gigs at the same venue. If this is UK vs the US, stand-up style, it would be hard to pick a winner. They both provide some great cultural comedy insight.
On Tuesday night, Martin had the disadvantage of a 7pm timeslot, and a smaller, less liquored crowd. But his observations on the quirks of humanity still tickle the funnybone. His audience interactions are gentle and sly, and his quips were wide-ranging: bubbles in baths ("a foamy layer of shame"), competitive yoga, why naps are better than massages, solo vs communal fruits (apples vs watermelons), and why it's called a glovebox when we don't use it for gloves. His casual British demeanour and slightly rambling delivery can occasionally take the real punch out of the joke, but his notes on consumer reviews of kitchen appliances, and the unseen advantages of a longtime girlfriend deliver big laughs.
By comparison, Rhodes is like conversing with someone on speed - he's louder, brasher, more controversial, more energetic, and humorous in his style as much as his content. Sex, religion, racism (sunburn is the real cause), and gay marriage are all wound into personal anecdotes from his seemingly nutty life. His stories about being hit on by another male comedy star, his father's 100 degree air conditioning rule, and losing love in Amsterdam are all very entertaining, with or without a concrete punchline. But it's his quips on the English, ideas for the new Pope, and thoughts on mixed-race relationships ("you gotta keep mixing the races until we're all the same grey-ish colour") which cut through.
Comedy Festival review
Who: Chris Martin (UK), Tom Rhodes (US)
Where: The Classic.