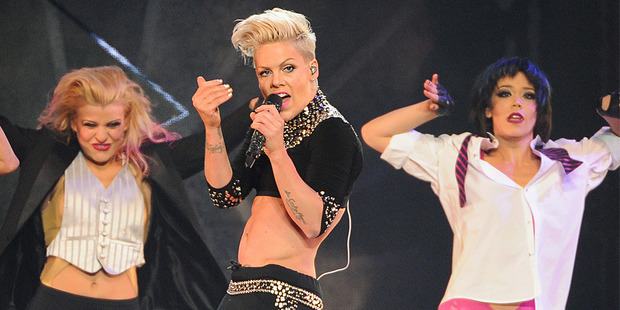 Pink says she hopes to take the power back by singing about her sexual escapades.
The American singer is happily married to Carey Hart but before their relationship she played around a little. It annoys her that women are criticised when they have several romantic partners, while men are viewed positively for the same thing.
Pink's latest record The Truth About Love contains many tracks focusing on sex, which was a conscious decision on her part.
"I'm a reformed slut," she told the June edition of US Glamour magazine.
"[Reclaiming that word is] my very unsophisticated way of taking the power back. I've always had an issue with [the idea that], 'OK, we've both decided to do this. Why am I a slut and you're the player? You didn't get anything from me that I didn't get from you."'
The star also reminisced about the beginning of her career, which saw her touring with boy bands *NSYNC and 98 Degrees. She has great memories of working with the groups and admitted going on dates with *NSYNC's Joey Fatone.
"It was Beatlemania for those boys. I got in trouble for toilet-papering 98 Degrees' bus," she laughed.
"Joey was in love with me. He took me to Friendly's on a date, and he bought me an ice cream. Such a sweetheart. He asked my dad's permission."
Pink and Hart have 22-month-old daughter Willow together, and parenthood has been a struggle for the 33-year-old star, who worries about her child all the time.
The star's relationship with Carey has been famously rocky, with the pair splitting two years after they married in 2006 and then reuniting.
She is proud they are still together, calling the marriage a "choice" and stating that they do argue but have such a strong bond that it doesn't matter too much.
- Cover Media