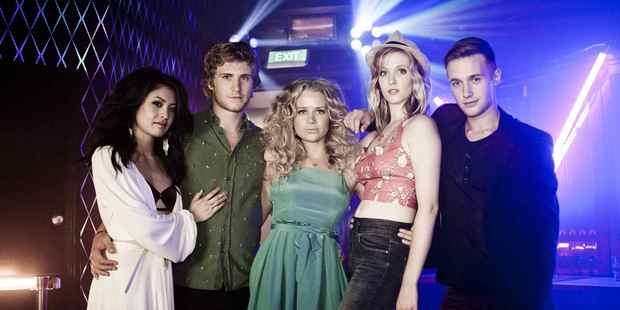 "Stink, dont think any of these girls will punch anyone out like cody, they may break their pretty nails. Same goe's for the males on the show too, lol." [sic]
So said a loyal Go Girls fan on the show's Facebook page, the equivalent of standing up for your mates by preparing to hate the new kids. One episode in, let's hope they've at least offered to sit with them at lunchtime.
In case you've been "totes" under a rock, Go Girls, (Tuesdays, 8.45pm, TV2) has a fresh core cast, the result of the previous stars moving on and their characters outgrowing the quarter-life crises the show was based around.
The new gang continues to perpetuate a few North Shore preconceptions in that they're all white, with the exception of Alice (J.J. Fong), the good-girl Chinese bride-to-be who'd decided she was going to break bad by the episode's end. Then there's Britta's hilariously tactless younger sister, Candy McMann (Shara Connolly), back from last season to overhaul her dodgy reputation.
"Go you for being drunk and slutty and irresponsible," said Alice as the group gathered on Takapuna Beach with a bottle of booze, plotting their goals for the year. "That's what I want to be."
Elsewhere, the new characters aren't terribly new - perhaps because certain archetypes have proven themselves. Ted (George Mason), a lovesick landscaper with a repertoire of baffled-dog expressions, provides the subtext with a running commentary of his thoughts, just as Kevin did. Likeable klutz Benny (Tai Berdinner-Blades) has a few ditzy things in common with Britta, only her goal is to get a job rather than a boyfriend. The most interesting new Go Girl is a boy, Levi (Leon Wadham), the cool-as-a-cucumber gay PR exec with the best wardrobe of the bunch, and trouble heading his way next week.
Thankfully this is a talented comedic cast who bring their own flavour to the roles. In fact, the new Go Girls feels more like a comedy. When Ted went storming into Benny's office and the receptionist gave him the classic "You can't go in there" line, he pulled open the door to ... a storage cupboard.
"It's not Candy's fault that Dad was having sex with Sandy while Mum was at yoga," said a straight-faced Benny, one of several laugh-out-loud moments.
Although the success of the fifth series will no doubt hinge on how well the newbies are received, the show's winning formula is still firmly in place, all bright costumes, peppy music and more flashbacks, rewinds and fade-outs than you can shake a bottle of tequila at. Perhaps the biggest change is the context - this group of mates is living in recessionary times, a point made when Alice's wedding venue went into receivership and Benny's employer tried to exploit her desperation.
However suspicious you might be of the show's central idea - that a group of friends in their mid-20s would co-ordinate their goal-setting at a time in their lives that is generally more spontaneous than any other - it's easy to set this aside and enjoy. If old fans aren't impressed, there's no reason why the new Go Girls won't find a whole new audience.
-TimeOut