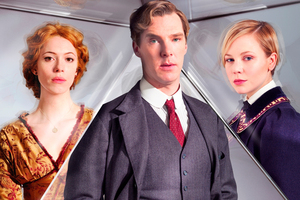 Pick of the Week: PARADE'S END
Just as Benedict Cumberbatch becomes Star Trek's latest nemesis and Rebecca Hall turns up on Iron Man's doorstep, here's something smarter they prepared earlier. Parade's End offers a portrait of a marriage and a period of upheaval that is almost as volatile as anything the English stars' respective Hollywood movie franchises might detonate.
This five-par series has been lumbered with the impression of being a thinking person's Downton Abbey, care of its upper class Edwardian setting and its script pedigree - esteemed playwright and screenwriter Sir Tom Stoppard adapted it from the tetralogy of novels by Ford Madox Ford, originally published 1924-28.
What those thinking folks might be thinking as the opening credits roll is "wow, great cast" - Cumberbatch and Hall are supplemented by Rupert Everett, Miranda Richardson, Anne-Marie Duff, Roger Allam, Janet McTeer and others.
And there's a memorable turn in the first episode by Rufus Sewell as Reverend Duchemin, an Anglican minister whose belfry has a serious bat infestation.
So by the end of that first episode, those Downton fans might well be thinking: "Whatever would the Granthams say about this lot?"
It's soon clear that this isn't the accessible upstairs-downstairs soap of Downton. It's a saga of sex, love, infidelity, betrayal, politics, war and the end of Britain's landed gentry. It's powered by the performance of Sherlock's Cumberbatch as Christopher Tietjens, a brilliant Tory government statistician of good means. Also compelling is Hall as Sylvia, the socialite he falls for after a lustful encounter on a train - complete with the ol' locomotive-through-tunnel cutaway, which is cliched enough to be funny and is just one of many directorial flourishes by Susanna White (Bleak House, Jane Eyre) that shows Parade's End isn't playing by the period production rulebook.
The story starts in (deep) earnest three years after Tietjens has married Sylvia, despite doubts that the out-of-wedlock child she is carrying might not be his.
She is continuing to have flings, but her hubby's content to keep up the pretence that their marriage and his work at Whitehall is enough. That's until he encounters young gamine suffragette Valentine Wannop (Australian newcomer Adelaide Clemens), who challenges his fidelity and his politics.
The ensuing series follows Tietjens into the trenches of World War I as he tries to decide between the two women, one of whom is the mother to a son who may not be his, but whom he still loves very much.
When: Sundays, 8.30pm
Where: UKTV
What: Thinking person's Downton Abbey
Comedy pick: BEN & STEVE: WORLD FAMOUS IN ...
On a mission to prove that the real funny side of New Zealand is to be found in our smaller towns and cities, 7Days stalwarts Ben Hurley and Steve Wrigley have travelled around the country to find some truly comic characters and to bring their show to heartland audiences. They've asked local legends to show them around and prove why their city should be "world famous". They're taking a bunch of other comedians and special guests along for a laugh, too - Peter Helliar, Jeremy Elwood, Josh Kronfeld, Urzila Carlson, Guy Williams, Justine Smith and James Nokise all make appearances in the cities which mean the most to them, like Dunedin, Hamilton, and Palmerston North. In the first episode, the boys are joined by Dai Henwood, Vaughan King and Jay Jay Feeney in the 'Naki, to find out what New Plymouth has to offer.
When: Friday, 9.30pm
Where: TV3
What: The funny side of small-town New Zealand.
Mystery pick: HIDDEN
Last seen on New Zealand screens in British series Mad Dogs, and perhaps best known for his role in BBC's Life On Mars, Philip Glenister returns this week in Hidden. In this four-part political conspiracy thriller, Glenister plays Harry Venn, who seems to be an average High Street solicitor, but with a difficult past that's been well buried. Then fellow lawyer Gina Hawkes (Thekla Reuten) turns up to ask for help in finding a missing witness, and he's inadvertently drawn back into investigating the death of his brother 20 years ago, during a botched house raid in which an 18-year-old Venn was the getaway driver. It soon becomes clear that there's a lot more to Hawkes' case than she let on, and that with the tangle of lies and deceit becoming ever more complex and powerful, Venn's life might still be in danger.
When: Monday, 8.30pm
Where: UKTV
What: Layered political conspiracy.
Crime pick: HARRY
As well as telling the story of Detective Harry Angelsea (played by Oscar Kightley), the first episode of this local six-part crime drama also revolves around young P-smoking killer, Lua. He is wanted by police for a spate of armed robberies, including a fatal shooting during a bank hold-up. Leading the case is Harry, just back at work after his wife's suicide and trying to get to grips with looking after his troubled teenage daughter Mele. Created by Steven O'Meagher (Out of the Blue, This Is Not My Life), the series is action-packed, gritty and intense, with storylines inspired by real events and news reports from the past 10 years. Former high-profile detective Neil Grimstone is a key part of the production team, acting as technical consultant, and it also stars Sam Neill as Detective Jim "Stocks" Stockton, Harry's boss.
When: Wednesday, 9:30pm
Where: TV3
What: New Zealand's latest cop drama.
Music pick: HOMAI TE PAKIPAKI
The down-home singing competition has had a makeover, with former Mai FM breakfast host Brent Mio and 2008 Homai Te Pakipaki winner Pikiteora Mura-Hita taking over as hosts this season. The live karaoke competition has also tweaked its format and a whopping $20,000 is up for grabs in October's grand final (up from $10,000 in previous years). Each show will feature five paki (contestants) who have made it through the audition process to compete for the $1000 weekly prize. The winner will be decided by the public via text voting. Producer Piripi Menary hopes to see a lot of top talent coming through to entertain viewers.
"It is a show about the people, for the people and we want to give them a platform [to go on to something bigger] ... but we're keeping it real and grassroots."
When: Friday, 8.30pm
Where: Maori Television
What: The Karaoke Factor.
- TimeOut