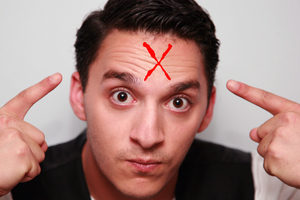 What sort of voice should we read your answers in?
A very Kiwi male voice which is a mix between North Shore and Ponsonby, just without the poodles and lattes.
Are you worried about how you'll come across in print?Not really. Why should I be?
Describe your show in 10 words or fewer: Unique ... funny ... magical ... XTREME. Could only think of four ... guess that's all I need. Boom!
What does your mum think of what you do?
At first she was very excited, but then she came to the Classic Late Show. No parent should come to these shows.
Eight minutes into your show, all going well, what is happening?
Hopefully nothing, just waiting for the laughs to die down ... all going well.
Where are you usually when jokes come to you?
Normally socialising. Sometimes a few ideas pop in my head in the shower or even in bed.
What's more important as a comedian, youth or wisdom?
Discuss.I'd have to say both. Youth really does help me with my target audiences. Being young and fresh on stage always lightens the mood and helps people board your comedy ship. Wisdom I believe is better when you're older. I wouldn't know yet, being only 23.
Who's your comedy hero, and why?
Tommy Cooper, a comedian magician from the 60s who had his own TV series, and hardly did a trick. He had me in stitches as a kid, and still does today. He taught me that entertaining was the key to being a great performer.
•Comedy Chamber, Auckland Town Hall, May 4.