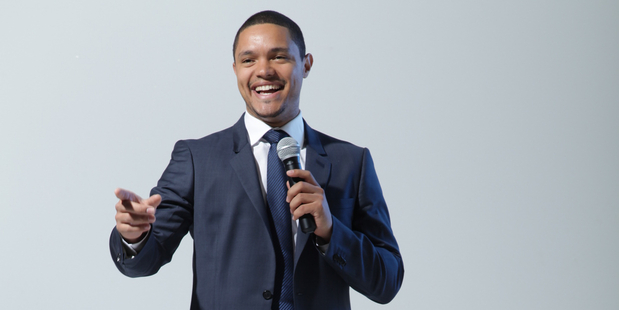 With TV3's The Vote posing the question, 'Is New Zealand a racist country?', last Wednesday night, perhaps black South African comedian Trevor Noah's visit to these shores to explore that very subject is prescient, maybe even coincidental.
Coming from a country that only emerged from the darkness of apartheid two decades ago, Noah's one man show, The Racist, blends comedy with social comment, leaving audiences in Edinburgh, the United States, Sub-Saharan Africa and his homeland rolling in non-segregated aisles. Word must have spread downunder - his three shows tonight an tomorrow night at the SkyCity Theatre are sold out.
Young and good-looking, with a black South African mother and white Swiss father, Noah is a straight talker who reserves his eloquence for the stage. Ask him exactly what The Racist is about and he deadpans, I'll give you three guesses. He is, however, a little more forthcoming on why he dropped his radio show and acting career (he had a small role on a local soap opera back in the day) to focus on comedy.
Comedy was always my passion, he says. I just never had the chance to do it fulltime, until now. The uncertainty, seeing people laughing and smiling, that's the best feeling in the world; making somebody else smile.
He's clearly doing something right. Last year he toured America, becoming the first South African stand-up comedian to appear on Jay Leno's The Tonight Show. His comedy specials, The Daywalker and Crazy Normal, have both been released on DVD. And he was the subject of David Paul Meyer's 2011 documentary, You Laugh But It's True, the title of which sums up his approach to stand-up.
Comedy is always a challenge, he concedes. But the international circuit is always looking for new people, so luckily funny is all you need.
Is frail former South African president Nelson Mandela fair game back home?
No, people love Mandela jokes, he says. As long as you aren't crazy offensive then people enjoy it.
And the controversial African National Congress, who continue in power in South Africa?
The ANC is always fair game and most of the time they're the main target of comedians in South Africa because they're the ruling party, he insists.
His own heritage has been the source of subtle mirth, with his maternal grandfather jokingly calling him master, though the humour underscores some deeper issues affecting South African society.
There are many divisions around race which people are still working to mend, he admits.
Comedy may be one way to help heal the nation's wounds, or at least take people's minds off their problems, providing of course there are more comedians like Noah taking the stage and storming the airwaves.
The scene in South Africa is growing fast and it's great, he enthuses. It's raw, unfiltered and shaping the country.
Can it wash away the wounds inflicted by the nation's racist past?
Apartheid is a sensitive topic too, but it can also be done, he says.
Which brings us, circumspectly, to the inevitable. Got a good Oscar Pistorius joke?
Not yet, but I'm working on it.
Feel free to bother Noah backstage at his Auckland shows, at his hotel or in our streets with any and all suggestions. As a man of few words, at least in interview, he may need yours.