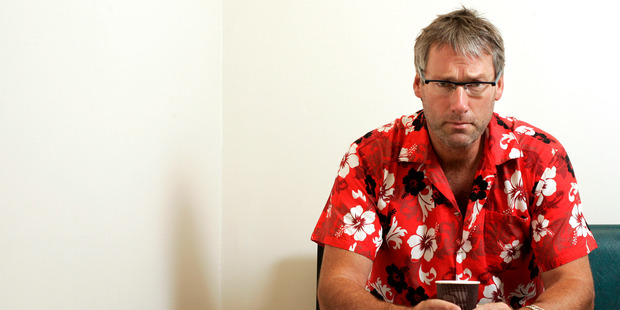 Think of it, said MC Jeremy Corbett in his opening spiel, as speed dating: A chance to see which comedians you might like to take it further with in the coming three weeks of the New Zealand International Comedy Festival.
Well, with 21 acts at this gala opening matching the age of the Auckland festival itself - and giving Corbett a nostalgic riff about those early years being "pretty much fart noises" - that might have offered quite a field to play.
Only slight problem with Corbett's try-before-you-buy buffet offer was freshness. Nearly half the line-up were 7 Days regulars and about half of those weren't exactly stretching themselves with new material in their alloted four minute slots.
Of the ten imports, six had appeared at past festivals and/or on 7 Days.
And unless you counted all-male Brit squad Idiots of Ants' sex-change sketch - which was pointedly hilarious despite its premise's vintage - there was but one woman.
That was Urzila Carlson whose Auckland traffic road rage routine reminded the angrier she gets, the funnier she is.
Among the blokes, that chromosomal imbalance seemed to lead to an inordinate amount of testicular and sperm jokes, even without the presence of forthcoming festival shows Big Balls or Puppetry of the Penis.
Corbett himself was physiologically even more wide-ranging. One of his routines about hangovers was like one of those Reader's Digest I am Joe's vital organ stories turned into an amusing tale of anatomical gang warfare. He also showed what fatherhood can do to your vocab - "pee-pee"? 'poo-poo"? - and ironic as they might be intended, those nudge-nudge wink-wink sex sound effects of his did come on a bit Benny Hill. But the ever-genial Corbett was in good form as ringmaster on a stage set which look recycled from that Narnia movie or possibly shop window display for Game of Thrones DVDs.
Previous gala host Arj Barker risked deja vu with his tried and true quips about Marley and Me (a movie which came out in 2008, back when Barker was Dave in Flight of the Conchords). But he was soon on funnier, ah, fresher ground with his personal appreciation of the upsides of diarrhoea.
Barker was the only American in the night's line-up, while the only Canadian, Tom Green lived up to his billing - as one of the festival's biggest names given his MTV/Hollywood credits - with a short sharp burst of manic goofiness which suggests those attending his two Auckland shows should brace themselves for a wild time.
But if this was an international tournament, the Brits would have won.
There was the aforementioned Idiots who might be a bit panto for some tastes but still won the most popular vote at last year's festival. Also returning was the genteel Stephen K Amos whose elegant comic timing made riotous work of his story about riding in a zorb ball and surviving with his dignity damaged.
But the night's freshest funniest routines came from Brit new boys Chris Martin, Markus Birdman, and James Ancaster. While both Martin's dog-phobia and Birdman's relationship bitterness were hilarious, Ancaster's whimsical wordplay, lateral-mindedness and use of fruit - apricots and apples alike - made him the who-was-that? hit of the night.
Of the local squad, as well and Corbett and Carlson, some of the 7 Days team did put in some effort. Among them Jeremy Elwood with his take on marriage, both gay and his own, dovetailing with his ponderings that Jesus showed clear signs of being a thirtysomething. A slightly different flavour of dry, wry and relevant was Guy Williams, as tall as he is sarcastic, pondering the racism, casual and semi-organised, of New Zealand's whiter regions including his hometown Nelson.
While of other local familiars, Ewen Gilmour, Ben Hurley, Jarred Christmas and Dai Henwood offered fairly trademark sets, four parts affable matey delivery to one part new gags. While festival regular James Nokise's skewering of his past in a Samoan street gang, one again made you wonder why he's not a household name. Or why a local hip-hop label hasn't signed him up for a comedy album.
The best of the locals, though, was Sam Wills - the UK based Boy with the Tape on His Face - who offered one of the night's rare potential side-splitters with a combination of his one-man aerobatic display followed by a four-man audience-participation origami-meets-Twister arrangement, all done to the strains of Lean on Me. Of the Aussie imports, sometime 7 Days guest Tom Gleeson's offered a hilarious line in exasperation over iPhone dependence which recommends his own show highly. So is Steve Hughes, whose droll social commentary belied his biker-esque image.
And last man on was Heath "Chopper" Franklin, who's mock-menacing persona has a few miles on it, but still feels fresh and dangerous. His simmering frustration with the instant amnesia of Subway counter staff reaching boiling point was a great kicker to a long night.
What: New Zealand International Comedy Festival Gala
Where: Civic
Screening: TV3 Sunday 8.35pm