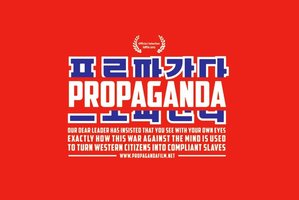 Mid-last year, a film purportedly made by the North Korean Government was posted on YouTube. Propaganda is a rather dry (if generally persuasive), Marxist-inflected critique of "the West"; an anti-propaganda piece of propaganda, which doesn't spare the Catholic church in its criticism. Such is North Korea's notoriety that it was seen by hundreds of thousands of viewers within a few weeks.
But Propaganda wasn't made by North Koreans at all; it was written and directed in Christchurch by Pakeha film-maker Slavko Martinov (who first considered Venezuela and Cuba as possible "origins" for the film). The ruse worked a treat: the film now has over 600,000 hits, even though the real film-makers have been unmasked.
But such viral victory has come at a high cost - paid mostly by the film's sole actor, Eugene Chang, as outlined at last week's Documentary Edge Festival Q&A. Originally from South Korea and a Christchurch resident for the past 12 years, Chang plays a North Korean psychologist in the film.
For this, he has been accused of being a North Korean spy, has been suspended from the board of trustees of Christchurch Korean School and is no longer welcome in Christchurch's Korean Catholic congregation. His wife - who had nothing to do with the film - has also lost all of her Korean friends.
The extreme, unchristian and personal nature of the blanket ostracism is appalling - but that there is some upset was expected. On the strength of of the film's coherence and subterfuge, some viewers may have started to believe - at a time of heightened tension, too - that North Korea speaks some sense. Perhaps this is why Judy Yun, President of the Korean Society of Christchurch, wrote to TV3's 3rd Degree programme that Propaganda is "twisted" and "malicious".
Attempted suppression is not limited to one culture or another; it happens everywhere. The Virgin in a Condom controversy springs to mind, as do semi-equivalent hypotheticals: what if your neighbour tried to make people think they were a disciple of Osama bin Laden on YouTube? Or a Jimmy Savile supporter, or a Destiny Church-goer, or a French Rainbow Warrior agent?
Would you want them running the local school? Would you defend their right to do so in the face of vocal majority opposition? Because that's what freedom of speech is all about. Community judgment, as well as the law, is a powerful, sometimes dangerous censor.
For his part, Chang points out, "The core message is telling people that there is propaganda, it doesn't matter where it is coming from. There is good propaganda for good reasons, bad propaganda for bad reasons. We have to be aware."
Perhaps there is a simpler explanation for the outrage than geo-political sensitivities. Eighteen years ago, New Zealand viewers felt "a great sadness for the future" after being "cruelly deceived" and wrote that the "cheap confidence tricksters" responsible "should be shot" and "heads should roll" at TVNZ. The culprit? Costa Botes and Peter Jackson's classic Forgotten Silver. Awakening awareness is much harder than awakening anger at being duped.