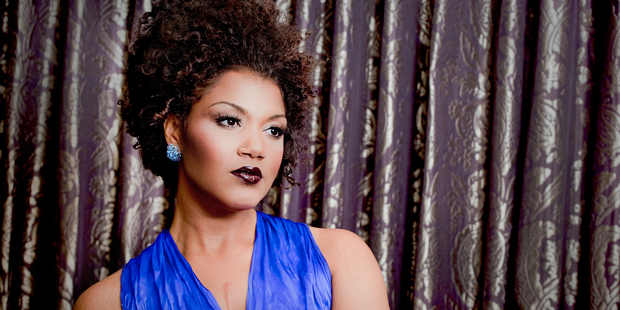 Measha Brueggergosman is a heroine assoluta for the Auckland Philharmonia Orchestra, stepping in at short notice to sing Richard Strauss' Four Last Songs next Thursday.
The Canadian soprano is television gazing when I call, trying to find out who is singing the national anthem at the ice hockey play-off between the Toronto Maple Leafs and the Ottawa Senators.
"They don't want to show me," she says, "so let's just talk."
Even halfway across the globe, the 35-year-old sounds every bit the dynamo I expected from her YouTube clips, in which she sings everything from Wagner and Mahler to Mozart and Joni Mitchell. She is open to a prodigious range of music, having taken her first vocal lessons at the age of 7.
"I've lived with an awareness of the voice," she says, "as well as an awareness of presence and comfortability on stage.
You know yourself as a performer."
She pauses and, with a dizzying swoop into her baritone register, adds, "I literally have no other marketable skills, so I'm happy that singing is working out."
Above all, Brueggergosman is proud to be Canadian. "Like New Zealanders, we're an autonomous culture that exists close to a very strong other culture. And to maintain your individuality, you have to find ways apart from just saying, 'We're not them'."
She has long been a fan of our country and wants to make the most of her five days here. "Wherever I go, I maximise," she laughs, admitting that she would like to catch up on some of our South Pacific drum'n'bass culture.
"I have this Shapeshifter album that blows my mind. And is there any way I could get to hang out with Jay Z and Fat Freddy's Drop?"
I point out that the APO has worked extensively with South Auckland hip-hop culture in the ongoing Remix the Orchestra project. Brueggergosman is ecstatic in a way only a true diva can be.
"Trinity Roots, the Black Seeds and all your guys are doing it right. Drum'n'bass and symphonic music were born to be together and a lot of that stuff is happening in New Zealand."
We rove over some of her unexpected but high profile activities, such as singing the Olympic Hymn at Vancouver's 2010 Winter Olympics. "All those people and the millions who see it on TV, and all I was thinking was, 'God, please help me remember the words'."
A judge on Canada's Got Talent, she admits that "if you have a Kiwi brand of crazy, then this is the Canadian one. You get everything from Winnipeg cloggers to East Indian Bollywooders," she laughs. "I learned so much about our country."
"Pourquoi pas?" crops up regularly in our conversation. It's a neat encapsulation of the soprano's life philosophy. "I kind of like this whole weird, drop-in-the-pan sort of life, where everything has the built-in motto of 'why not?"'
Brueggergosman is suddenly serious when we talk of the Strauss songs she will give us next Thursday. She learned them as a student in Germany "to sing with a little orchestra in Bamberg", but realised from the start that "these songs were very important; monumental touchstones of the repertoire".
She puts forward a goddess list of the great interpreters who have gone before her, names like Elisabeth Schwarzkopf, Jessye Norman and Regine Crespin.
"Singing these songs makes you feel you're part of this crazy, exclusive club," she laughs. "These wonderful words fell off the lips of some of the greatest people of all time."
And I suspect that any of those goddesses would be only too happy to find a place for the Canadian soprano on their musical Olympus.


Performance
What: Auckland Philharmonia Orchestra
Where and when: Auckland Town Hall, Thursday at 8pm