Three months in LA was enough for Chasing the Saturdays, Frankie Sandford tells Paula Yeoman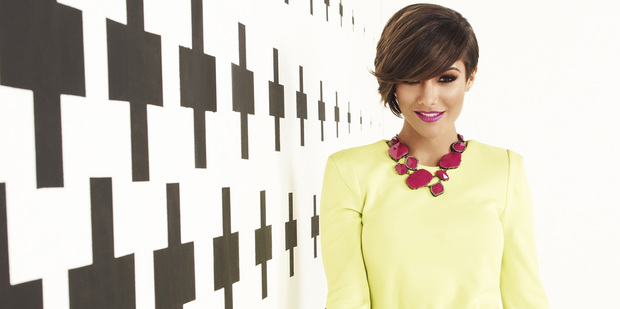 Add tears, tantrums, pregnancy and panic attacks to a storyline about one of Britain's hottest girl bands frolicking in the Californian sun and hanging out at red-carpet premieres as they try to crack the formidable American music market and you have reality television's latest offering, Chasing The Saturdays.
Whether the world needs another fly-on-the-wall series set in the not-so-real world of Los Angeles is debatable. Nevertheless, what Frankie Sandford from The Saturdays is promising, is reality.
"We were there for three months and we filmed almost every day. It's a long time and as you can imagine with five girls, a lot happens. There are dramas and there are great times. That all really happened. We're not actresses," she says of her fellow band-mates Vanessa White, Una Healy, Mollie King and Rochelle Humes.
Sandford is no stranger to fame nor reality television. She came to the British public's attention when she was just 12 and she successfully auditioned for the S Club Juniors on the television show S Club Search.
But it was after she made it through auditions to be in a new all-girl pop group in 2007, later named The Saturdays, that the success came, thanks to 11 top 10 singles and three top-10 albums in the UK charts.
And, as The Saturdays try to make the big leap across the Atlantic, 24-year-old Sandford stands out as the one to watch closely. In the first episode, which aired on E! last week, she opens up about her lengthy battle with depression and is overwhelmed when she's left alone for the first time in her spacious penthouse apartment at a swanky hotel in downtown LA.
She admits she was nervous about exposing the extent of her depression but says hiding it was never an option.
"It's lovely that people think 'Oh, I love her hair or her clothes' or 'I want to be a singer'.
But it's important to show that I am a human being and that I do suffer from something that people don't like to talk about."
Because the show has only started here, Sandford doesn't want to give too much away about the trials and tribulations that befall the band as they find their feet in Tinseltown but she does have something to say to the critics who claimed there wasn't enough juicy drama in the series, and the tabloids baying for blood.
"People have been spoiled with shows like Keeping Up With The Kardashians because they argue and they do fall out. But we're really close. It's a shame that people wanted to see us argue, but that's not how we are.
"I think when you see it, you'll see there's enough drama. One of us cries every episode, something always goes wrong - there's always something."
During the filming, the band strutted their stuff on the red carpet at the VMAs, performed at a party thrown by Hollywood blogger Perez Hilton and learned to surf. Sanford is now back in the UK but says she wouldn't swap her time in LA for the world.
But she prefers the intimacy, and funnily enough, the reality of London over shiny, happy California.
"It's just a different way of life. I always used to think that I would want to live there but I missed having seasons where I could put a coat on. It's so much more laid back and it was lovely, but I'm used to having to be fast and being in a rush."
Besides, she stresses that it was never about cracking the US market alone. She is adamant the band hasn't changed their sound and style just to fit the reality television mould or the American market. And their new album being released some time this year in New Zealand is proof of that.
"We are British and Irish and we don't make any apologies for that.
"The Spice Girls were similar. They went over and they were out-and-out British. We're not going to try to be anything else - people either like that or they don't and that's the risk we take."

Chasing The Saturdays in on E! Tuesdays at 9.30pm.