Brit singer-songwriter Jake Bugg is heading here on the back of his acclaimed debut album, He talks to Ellie Pithers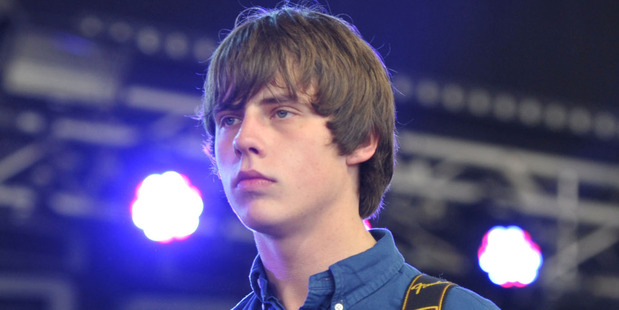 Jake Bugg is looking shifty. 'These are the first shoes I ever bought,' he says. 'They're... uhh... Prada.'
We are sitting in an empty bar in a nightclub in Bristol, and the singer-songwriter with the mop of hair is fending off my allegations that he is losing touch with his working-class roots.
"'I only bought them because they're blue suede and I like Elvis,' he protests. 'I love my tracksuits as well. I'm from a council estate, so I like old-school Adidas ones.'
Bugg, 18, grew up in Clifton, Nottingham, once the largest housing estate in Europe, but he has had a taste of the high life in recent months. His self-titled debut album went straight to the top of the British charts in October, fending off competition from the X Factor heavyweight Leona Lewis and knocking Mumford & Sons off the top spot.
In the past year he has also toured America with Noel Gallagher; supported the Stone Roses, Lana Del Rey and Example. He admits he is as baffled by his success as Lewis's fans are aggrieved.
'The number one shouldn't have happened. It was my first album, it was guitar music - not very popular nowadays, as they say - and it kept Leona off. I wasn't expecting it to go anywhere.'
He smiles wryly while recounting details of tweets from angry teenage girls, fuming that first-week album sales of 35,000 were enough to trounce their idol. He is characteristically blunt when I ask him for his thoughts on the manufactured products of The X Factor. "I think Leona Lewis can sing. That's about it. You get a couple of talented people, but... excuse my language, but it's full of s - t."
And of course, there's been his more recent feud with One Direction which started after he took exception to the boy band being compared to the Beatles.
"It's almost too stupid a comparison to even bother arguing with,' he's said. "I wasn't looking for attention. Someone asked my opinion and I gave it."
Born Jake Edwin Charles Kennedy (Bugg is his father's name), his parents separated when he was a child; his mother works in sales and his father is a nurse - he admits it's not quite the broken home that features in the video for his single Two Fingers, which sees him chainsmoke his way through the streets of Nottingham to escape his drunk, violent parents, 'but it's not far off'.
Bugg first became interested in music at the age of 12, after hearing Don McLean's Vincent on an episode of The Simpsons. "After I'd looked at all of McLean's music, I really wanted to learn the guitar. My uncle coincidentally came round with an acoustic and showed me a couple of chords.'
Both his parents recorded some songs in their younger days, but he gives me the first of many withering looks when I ask whether their music has influenced him.
"I don't listen to their stuff. It's nothing like my music - it's 80s pop," he shudders.
He began playing bass in his older cousin's band, and around the same time began writing songs, citing the Beatles, Jimi Hendrix, Donovan, Johnny Cash and the Everly Brothers as inspirations. By 16, he had dropped out of a music course at college and began playing local gigs. On a whim, he uploaded some songs to the BBC's Introducing scheme in 2010, and by June 2011 was playing the Introducing tent at Glastonbury. A record deal with Mercury swiftly followed.
His debut album is a paean to his upbringing, rife with working-class hero lyrics - 'Stuck in speed bump city where the only thing that's pretty is the thought of getting out / There's a tower block overhead, all you got's your benefits and you're barely scraping by', for instance.
Its rasping melodies, sung with a rusty 10-cigarette-a-day lilt, have seen him dubbed 'an East Midlands Bob Dylan', but he is sanguine about the comparison. "Bob Dylan's cool, you know, he's great, but he's not a major influence."
Bugg's main aim with the record was 'to get people picking up guitars again'. He has taken some flack for too-perfect sepia-toned album imagery and co-writing credits with the professional songwriter Iain Archer, with some critics sniffing the stamp of a marketing team, but Bugg is so grumpy I doubt he'd let anyone tell him what to do.
"They basically signed me and said, "Go away and do your thing." When I was writing with Iain, we had a fag, a cup of tea, a bit of a play. The way I see it, it's jamming. Everything has built up naturally - if I was to turn up in a bright fluorescent tracksuit then someone might be having words, you know, but otherwise, I just have to be me.'
The all-important second album beckons, but Bugg's not nervous. "I've achieved what I wanted to do. Got a number one. Met my idols - Don McLean and Jimmy Page."
Maybe, eventually, he'll move to London, but for the moment he's either on the road or at home with his mum. "They say the only way out [of Clifton] is football or music. It's a cliche, but that's because it's true."
Who: Jake Bugg
Where and when: Powerstation, July 30, tickets on sale Thursday May 2
- TimeOut / Daily Telegraph