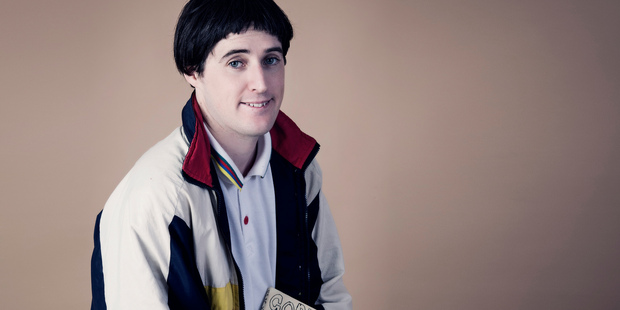 What sort of voice should we read your answers in?
How many voices do you people usually read the paper in? I don't know, have a go at that annoying woman from ZM. Polly I think her name is. Or Darryn Lockyer. Yeah, go with Darryn Lockyer.
Are you worried about how you'll come across in print?
Not overly no. Unless you print these answers in comic sans or something? Just stick with Times New Roman. Don't get flashy, Herald.
Describe your show in 10 words or less:
A show about someone's diary that I found.
Is there somewhere we can see your work online? If not, why?
Yes, Google "Tom Furniss" and you'll find some stuff. Mostly videos and short films, but I'm now starting to put stand-up bits online.
What does your mum think of what you do?
My mum's dead, good one Herald. Once again, making you and me look like idiots. But I'm sure she's in heaven smiling at my jokes.
I love you Mum.
Eight minutes into your show, all going well, what should be happening?
The barnyard animals will be just getting into their second change of costume, and I'll be rigging the harness for the firework fight sequence with Javier. The rest I'm keeping secret.
Where are you usually when ideas or jokes come to you?
Sometimes I'm praying to Jesus to look after my mum and he tells me a joke. But I went to the zoo yesterday and wrote six jokes, so that's proving to be a pretty lucrative place. Most of the jokes were about food and tennis though, so it's weird how it works. Andre Hagassi and Monica Salad.
What's more important to have as a comedian, youth or wisdom? Discuss.
Probably too much of either would be a bad thing. Like a toddler, or a wizard would probably be crap at comedy. Actually, a wizard may be quite good. A toddler could be good too now I think about it. I'm gonna go with wisdom on this one, wizard just edging out the toddler.
Who's your comedy hero, and why?
Babe: Pig in the City.
2013 BILLY T NOMINEE
THE DIARY OF GORDON LEAF-COOPER
Where and when: The Basement Studio, May 14-18
-TimeOut