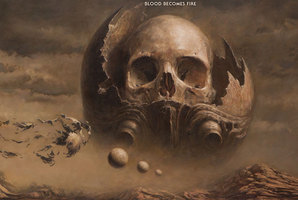 There's no mucking around, Beastwars put their foot on your throat and let you have it right from the start on raging chugger, Dune. So it's more of the same from the fearsome Wellington four-piece then following their debut album from 2011? Well, yes, but this time round the intensity has been cranked up even more, and the sound they make is cleaner and clearer, while still retaining that rugged rawness and trance-inducing heaviness. This is power music people, and Blood Becomes Fire will make you feel even more bulletproof than their debut did.
It's the unbridled brutality of Caul of Time where they are at their most powerful, and Imperium flails around wildly like a piece of old corrugated iron flapping in the wind. But sometimes it's easy to overlook the more beautiful, subtle side to Beastwars. Rivermen brews with Matt Hyde's haunting serenade as the band simmers in the background, before the beauty caves in and is overwhelmed by harrowing grooves and red-blooded metal. Then there's the mysterious Tower of Skulls that tracks along at a lurching pace, as does the primal mood of Shadow King, which recalls Ministry's sprawling epic Scarecrow, before it changes into slovenly sludge rock mode.
This will take some beating as New Zealand album of the year (if not album of the year).
Stars: 5/5
Verdict: Even better and more brutal than their debut
- TimeOut