Maori Television chief executive Jim Mather grew up in Otara and Mangere before joining the army where he was an officer and received the Sword of Honour award. This week he announced his resignation to follow his passion for Maori education, leading Te Wananga O Aotearoa from later this year.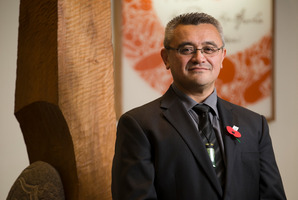 1. Maori Television dedicates today to its Anzac coverage - does your army background have anything to do with that?
It was a programming decision that I strongly supported. Setting aside one day of our schedule seems an appropriate small token of our respect. Anzac Day for me is about the actual sacrifices people have made and continue to make as opposed to the battles fought. And it's about recognising this group of people who are not particularly well remunerated but who serve in so many ways - peace-keeping, civil defence, military issues.
2. Why did you join the army?
I grew up in Otara and Mangere - state house upbringing; humble, poor but proud! Dad was a boiler attendant at the ARA's sewage purification plant and my step-mum worked in a canteen. I didn't want to struggle as hard as my parents, working out how next week's rent was going to be paid. I saw the army as a very disciplined environment, strong on education, where I could learn from people who had gained wisdom from real-life experiences.
3. Was it fun too?
I was fairly driven. People used to refer to me as "the saint". They'd be going to the bar where the privates hung out and they'd say "oh the saint won't be there, he'll be studying".
4. Why is the army such an important institution for so many Maori?
The military have a very strong affinity with tikanga Maori - you only have to look at how passionately the haka is performed. The core values of courage, commitment, integrity and loyalty align strongly and I think the military was very smart to recognise Maori culture strengthens their culture.
5. Were you brought up speaking te reo?
No. Apart from living with my grandparents and wider whanau in Te Teko for three years as a young boy, there was very little exposure to te reo in my South Auckland upbringing.
6. What's the Maori phrase you now use most often?
"Ehara taku toa i te toa takitahi, engari he toa takitini." Success is not the work of one, but the work of many.
7. What's the biggest issue facing Maori today?
General underperformance in education. Education is the key that unlocks a whole range of opportunities including most importantly employment prospects. I hope to make a strong contribution to education through my chief executive role at Te Wananga o Aotearoa.
8. What TV shows from other channels do you never miss?
Campbell Live. John Campbell is the standard bearer for serious journalism (aside from Native Affairs and Te Kaea of course!)
9. You've also been a Twitter critic of TV3 current affairs at times - what's your opinion of TVNZ?
I don't actually watch very much of TVNZ's programming. It's not disrespectful - our newsroom works very closely with TV3 and we don't have that level of relationship with TVNZ. I have watched a couple of episodes of Seven Sharp and all I can say about it is we wouldn't have gone there.
10. Who will be New Zealand's first Maori Prime Minister?
At the risk of sounding disrespectful, I don't believe that person is at present in politics and I certainly have yet to meet him or her. However, I would be extremely pleased to be proven wrong on both counts.
11. Who is the most influential Maori in New Zealand today?
Mihingarangi Forbes, the presenter of Native Affairs as the programme shapes the views and opinions on a wide range of key Maori issues.
12. Is it true you once mistook Inga Tuigamala for Bryan Williams?
Sadly, it is true. I said to Inga that he revolutionalised the mould for wingers - big, fast and powerful. That part of the conversation went well until I mentioned that I first saw him playing for Auckland in 1978, which brought laughter from Inga and the response "it must have been BeeGee". What can I say ... I'm a leaguey.