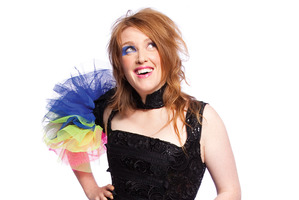 What sort of voice should we read your answers in?
A cross between Shirley Bassey and Eric Stoltz, with a clipped, pretentious theatrical accent, tinged with a country Australian accent.
Are you worried about how you'll come across in print?
Nah! Nothing I write could be any more embarrassing than some of the outrageous drag costumes I squeeze myself into.
Describe your show in 10 words or less:
Original anthems for the ordinary sung loudly by a ginger.
Is there somewhere we can see your work online? If not, why?
geraldinequinn.com, or youtube.com/Gerrixinald. Also on iTunes.
What does your mum think of what you do?
I think tolerance is the best word to describe it.
Eight minutes into your show, all going well, what should be happening?
I should be whipping off a quick-change PVC and lace skirt in a flurry of fluoro tulle, accompanied by screaming guitar.
Where are you usually when ideas or jokes come to you?
On Earth. And I usually have a pen.
As a comedian, what's more important to have, youth or wisdom? Discuss.
I don't think youth and wisdom are necessarily mutually exclusive. Nevertheless, the winner by a large margin is wisdom. You can be a fantastic artist and young, but to me that means you will improve in time and become even greater. So whatever your age, wisdom is the winner. Youth is an accident of time which you have done nothing to earn.
Who's your comedy hero, and why?
Peter Cook. Brilliance, deep silliness and intellect, an often misplaced ambition (I think he really wanted the sort of rock stardom Dudley Moore got closer to), and so many flaws. Dudley Moore is a close second because of his incredible musicianship. But I adore them both, and though I could never touch the hem of their garments, it is always worth striving for.
YOU'RE THE VOICE: SONGS FOR THE ORDINARY BY AN ANTHEMANIAC
Where and when: The Vault at Q Theatre, May 7-11
- TimeOut