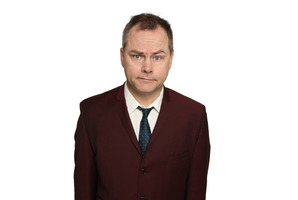 What sort of voice should we read your answers in?
Your own. That way you'll realise we are really very similar and have much in common.
Are you worried about how you'll come across in print?
Print has no timing so it's a much more difficult medium for comedy.
Describe your show in 10 words or less:
Me, a microphone and a bunch of issues. Plus audience.
Is there somewhere we can see your work online? If not, why?
I've never Googled myself (who would?) but I know that lots of my stuff is on YouTube.
What does your mum think of what you do?
My mum died last year but she loved coming to my shows. We had a very similar sense of humour.
Eight minutes into your show, all going well, what should be happening?
Carlos, my assistant will be backstage preparing my post-show cocktail (a combination of grenadine, vodka and prescribed medication).
It's important I get the audience laughing at that point so that they can't hear the blender. .
Where are you usually when ideas or jokes come to you?
Often my best and most lucid time is a few minutes before I go on stage.
What's more important to have as a comedian, youth or wisdom? Discuss.
When I was young I was convinced it was youth. But now that I'm not, I realise that it's the wisdom of experience and age that really matters.
Who's your comedy hero, and why?
There are a great many. Richard Pryor, Billy Connolly, Steve Martin, Woody Allen, Dave Allen, Tommy Cooper, Les Dawson and the entire cast of Dad's Army are some of the famous ones but there are many others such as Stephen Wright. I learned so much from them all.
AN EVENING WITH JACK DEE
Where and when: SkyCity Theatre, May 1-2
- TimeOut