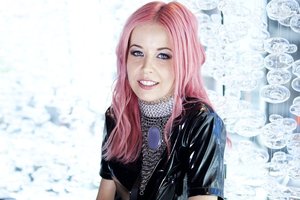 Ruby Frost's appointment as a judge on TV3 talent show The X Factor left some people scratching their heads and asking who she was.
But the 25-year-old singer says she brings something to the panel the other judges can't - she knows the New Zealand music scene inside out.
"The main criticism I'd get is that I'm still at the start of my career," she said.
"I've gigged a lot here in New Zealand and I know our market here, I know through and through what we've got, what works here and what I like. I also reference a lot of different musicians to the other judges on the panel."
Melanie Blatt made it internationally with All Saints, Daniel Bedingfield hit fame in Britain before New Zealand and Stan Walker won Australian Idol.
Wellington-born Frost is also aware of the realities of today's music industry because she's still very much involved in it.
Frost won her role as a judge on the reality talent show after a rigorous audition process.
Those judging her liked what she brought to the equation and she got approval from X Factor creator Simon Cowell's company Syco Entertainment at the end of January.
Frost was thrown into the hectic schedule with hundreds of hopefuls belting out their best, trying to impress her and her fellow judges.
But now the "boot camp" part of the series has been filmed, the judges have each been assigned three contestants to mentor. Frost is waiting for the rest of the country to catch up before the live X Factor shows start next month.
"It's so hard keeping the secrets."
She had a viewing party with her family for the premiere on Sunday night and said she was impressed with how the editors managed to cut down so much material.
It's also clear she's been pigeon-holed as the enthusiastic and positive judge.
"I'm definitely not Simon Cowell," she said.
"There haven't been that many terrible, terrible ones that we saw during the first week of auditions; there were more just average singers who didn't have the spark or enough to take them through so I just try to just think of one thing they can work on."
Monday night's show drew an average audience of 449,740 viewers, slightly fewer than the 467,360 who tuned in for the Sunday debut.
Ratings game
Most watched programmes on Monday, prime time:
1. Border Security: 544,770 (TV One, 7.30-8pm)
2. The Force: 535,560 (TV One, 8-8.30pm)
3. My Kitchen Rules: 454,210 (TV2, 7.35-8.45pm)
4. The X Factor: 449,740 (TV3, 7.30- 8.45pm)
5. Criminal Minds: 356,390 (TV One, 8.30-9:35pm)