If you make an appointment with Doctor Brown prepare for a hands-on experience, warns Scott Kara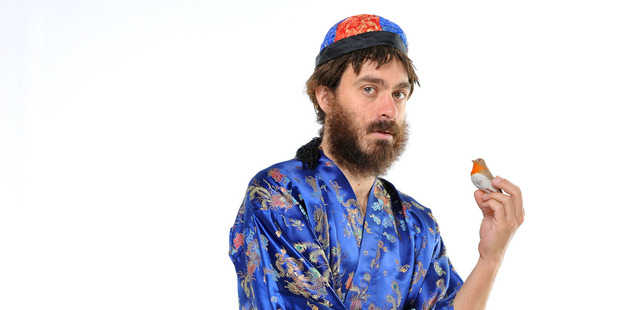 Doctor Brown is a big kid. He just wants to play. Or, as the American comedian who's made quite a name for himself with his wacky mime-cum-surreal slapstick act after winning the supreme award at last year's prestigious Edinburgh Fringe, puts it: "I just want to play, dude. I just want to play with people."
Although, unless you mind being undressed on stage, then perhaps even fondled, he's possibly not someone you'd want to, um, play with.
However, before you write him off as some lewd, crude comedian, let the good Doctor (real name Philip Burgers) explain himself.
"When you're playing with your friends there are no boundaries so you're just having a good time playing. But, unfortunately, when you put it in a theatrical setting, all these boundaries go up. So I'm just trying to play with people on a common level."
In case you're thinking there just might be something deeper, and more philosophical behind his madcap antics and his show with the incomprehensible title, Befrdfgth, then forget it.
There's not.
"I'm not looking to crack some code or something," he says with a laugh on the phone from London where he has just finished a show. "I'm just looking to chill out and have a good time. It's just fun and silly. Some people like it, some people don't. Either you're up for it or it's not your thing at all. If it is your thing hopefully you have a good time. And that's what it's about. People think I'm just an idiot that's playing, and that is what I am really."
The thing is, if you are at a Doctor Brown show you'd be forgiven for feeling a little on edge. Because he prowls and prances around, pulling people out of the audience, and similar to New Zealand's own comedy star The Boy With Tape On His Face (aka Sam Wills), he doesn't say a thing - which makes for an even more creepy and bewildering atmosphere.
So, if you are a little worried, perhaps head along to his kids' show, Dr Brown Brown Brown Brown Brown instead. ("It's just like the adults' show minus the sex, sexual references and the violence.")
He's quick to point out he's not a mime artist, and his roots are in stand-up where he admits his jokes were "still really weird". As time went on he started incorporating more physical comedy into his sets, and not talking for longer periods until one day he decided not to talk at all "to see what happens".
"So it naturally evolved. I'm not a mime. I don't consider myself a mime. But people have to categorise it as something so the fact I don't speak and I use my body and face makes me a mime. But anyway, I just did [the no speaking thing] as a challenge. I have no fascination with mime or anything."
Given his win in Edinburgh, he is one of the must-sees of this year's comedy festival, but Burgers shies away from making too much fuss about the win.
"It hasn't really changed anything. But it has made me appreciate that people like what I do," he says, before launching into a mini tirade. "We're too motivated by achievement, success, and recognition. That's really f****** tiring. Sorry to get so aggressive about it but personally I have suffered trying to achieve and succeed, and I still am in many ways, and I just want to find freedom from all that and not treat all this shit as a challenge and just make it easy-going."
One thing's for sure, it has made Burgers a comedian in demand. Before coming to New Zealand he completed a month-long run of shows at London's Soho Theatre and he's going to be busy when he's here, too. Not that he knew he was doing 10 kids' shows and four adults-only performances during the five days he is in Auckland.
"Shut the f*** up, man. Every day?" he laughs, when TimeOut tells him his timetable. "Oh my God, why did I agree to that? But don't worry, it'll be alright."
Who: Doctor Brown, real name Philip Burgers
Show: Befrdfgth
What: Silent, absurd and bewildering
Where and when: Herald Theatre, May 1-4, 7pm
Also in: Kids' show Dr Brown Brown Brown Brown Brown. From May 1-5, 9.30am and 11.30am
- TimeOut