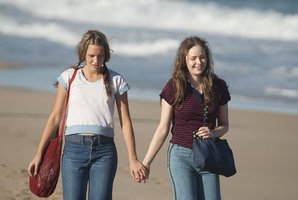 It has a cringe-worthy title but Puberty Blues, (TV One, Sundays, 9.30pm), based on the 1979 Aussie novel of the same name, is pretty good. You could say it's what would happen had Judy Blume cross-pollinated Home & Away, Dazed & Confused and Packed to the Rafters, setting it in a time when it wasn't considered as taboo to drive drunk, force a girl to have sex, or wear flares that look like they were painted on.
All of the above made an appearance in the first episode, which, at first glance, seemed to teeter dangerously close to cliche.
There were dodgy husbands having affairs or sneaking into the bathroom with the Vaseline, teenage girls giggling and squealing over blond surfer boys and bohemians running into the surf butt-naked.
But cliches are cliches because they're true, and much of the show struck a chord. This was Cronulla in the late 70s, when to be young and cool meant hanging out with the surfers.
Puberty Blues is made by the same team behind Offspring, a show I could watch only in small doses, largely because I found Nina so simpering, the way she dilly-dallied around men she fancied and always seemed to feel sorry for herself.
There are similarities in Puberty Blues in that many of the female characters are what you might consider verging on pathetic, but that is kind of the point. The novel's authors, Kathy Lette and Gabrielle Carey, wrote the book about what they saw as misogynist attitudes, even towards those supposedly living the "teenage dream"of shacking up with a surfer. The telly version is tightly focused on this theme (note the reference to Jane Austen's Persuasion), and therefore a strange mixture of disturbing and amusing. As a teenaged boy dragged a young girl away during an otherwise convivial beach drinking session, dorky best mates Debbie and Sue looked on, almost with a degree of envy.
Then there's Gary's deluded mum, whose sole purpose in life appears to be appeasing her husband, who is clearly having an affair. Even the supposed cool girls, Vicky and Cheryl, are viewed in terms of their sexual currency, their boyfriends discussing them in terms of how good they are in bed, (behaviour that no doubt continues to this day).
Not all of it feels authentic, though. What's annoying is the way the girls seem to announce their intentions.
Do teenage girls really say things like "We could take up smoking"? In my experience, this was something you didn't discuss; you just did it. Or Vicky, who straddled her boyfriend Gary at school, demanding, "Come on, pash me off."
Thankfully, there's more to PB than what the young ones are up to.
The grown-ups' social scene is just as tricky to navigate, what with Debbie's sensible parents subtly butting heads with Sue's folks, freewheeling graphic designers with a relaxed attitude to sex.
Speaking of puberty blues, who knew New Zealand had so many musical teenage boys with hair like Harry Styles? As The X Factor (Sundays, 7pm and Mondays, 7.30pm, TV3) got off to its bombastic start this week, the auditions filled up with several singers, young male and windswept, only they carried guitars, rather than surfboards. With the exception of the impressive Benny from Palmerston North, Monday night's talent was an improvement on Sunday's, and the judges relaxed more into their roles (particularly Mel Blatt, who is quite at home as the bluntest of the four).
It's hard not to compare our lot with the recent American version, making it a confronting experience. Maybe that's cultural cringe. But it's surreal to see SkyCity viewed from so many chopper angles, only to then hear a New Zild accent.
It remains to be seen whether those selected have more x factor than the show's production.
- TimeOut