Wife Sharon will be relieved booze and babes were not on menu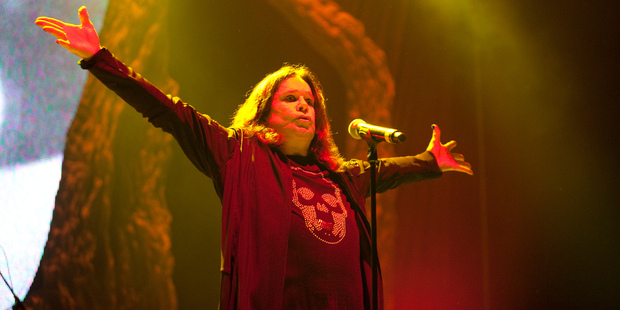 He is on a self-induced, good behaviour parole, so it's no surprise 64-year-old Ozzy Osbourne kept a low profile while on tour in Auckland this week.
The Black Sabbath frontman celebrated 51 days of sobriety, largely by trying to avoid the waiting paparazzi and lying low in his Langham Hotel room. Other band members visited Auckland sites, but it's understood the Prince of Darkness only ventured out briefly on Sunday and visited a Pakuranga art gallery on Monday. Hardly rock 'n' roll behaviour.
A paparazzi photographer says Osbourne visited Te Tuhi gallery, but marketing manager Simran Saseve-Dale wasn't aware of the rocker's visit.
She told The Diary the exhibition by political artist Santiago Sierra "would be right up Ozzy's alley".
Later that night he took to Vector Arena for another energetic performance. He played Saturday night, too. His wife Sharon - who recently separated from the rock star after he fell off the wagon and served him an ultimatum to get sober - was no doubt observing from afar.
She'd be relieved booze and babes were not on the menu ... this time.
However, the same can't be said of veteran rocker Steven Tyler, who hits the stage in Dunedin tonight. Question is, will the Aerosmith frontman have the lip-locking support of a former reality TV contestant?
Tyler breezed into town this week after playing the Stone Music Festival in Oz, but it was his canoodling behaviour over the weekend with one-time Australia's Next Top Model contestant Madeline Huett at a Kings Cross eatery and an inner-city bar that made headlines in Sydney's Daily Telegraph.
The aspiring TV star, who is more than 40 years Tyler's junior, is said to be waiting for the rocker to return for his gig on Sunday, but can the 65-year-old be trusted in the Deep South? Or is a tonsil-hockey fling in the student city on the cards, too? Ladies, you've been warned.
Mean Mel gets defensive
She watched the first two episodes of TV3's hit show X Factor with her sister Jasmine and daughter Lily, but thick-skinned judge Mel Blatt felt the need to defend herself on Twitter.
"Thanks for all your tweets good and bad. Don't forget opinions are like arseholes - everyone's got one."
Ruby Frost echoes the sentiment, but knows public criticism is part of the job. Daniel Bedingfield, who is in LA on tour, says he's nonplussed about critics. He watched snippets of the show with his manager on YouTube and was thrilled with the reception X Factor NZ has received.
Dominic Bowden and Stan Walker watched the screening with crew members and played drinking games.
Producers know they've got a hit. The social media buy-in saw the hash-tag #xfactornz become Twitter's top-trending topic on Monday night. And TV3 doubled its share of the 25- to 54-year-old audience compared with the previous four-week average, beating, too, TV2's MKR in the 5+ demographic.
Blokes and babes
The Twittersphere is rife with fawning celebs gushing about their perfect lives (Mike Hosking) or free-product deliveries from PR hounds (Kate Hawkesby). Ali Mau even went into bat for her beloved this week with a public announcement: "If you've got @KarleenEdmonds handbag, drop it to TVNZ at 100 Victoria St no questions asked," the TVNZ star tweeted about the theft.
But another trend is developing on Twitter that even has curmudgeonly journos thawing like a global warming iceberg. Fuggedabout gay icon politicians. The topic du jour is blokes and babes - not the comely variety, more the infant variety.
From actor Shane Cortese to TV3 anchor Hamish Clark, chattering about your children is de rigeur. Even the All Blacks are cooing about fatherhood and burbling about their babies.
Dan Carter prattles about his "cool new family" and Ali Williams admits he "can't wait to embrace this fatherhood thing". Cory Jane plays doting dad and plants a kiss on his baby girl, proudly boasting: "Iridessa loves her papa". While dapper Piri Weepu laughs that his 15-week-old son, Peyton Tipene, "dresses better than his dad".
Quite what the All Black hard men of old would make over all this social media cluckiness is unclear, but sports stars today know showing a softer side does no harm to their cred - or bank balance.
Buskers at society wedding
An intimate gathering of friends and family celebrated the wedding of scion Berridge Spencer, 42, to Olivia Davison, 33, at the Spencer family farm on Waiheke at the weekend, but it was a street band from New York that had everyone nattering.
Friends, including The Diary, jetted in to celebrate the nuptials - from as far as New York, London, Sydney, Norway and Singapore. The bride, wearing an elegant white gown with feather details, and the groom said their I-dos in a beautiful, purpose-built chapel, dedicated to the groom's mother who passed away in 1992.
Patriarch John Spencer, the groom's 79-year-old father, told The Diary the chapel of love could be used for future weddings. Perhaps Adam Parore, who played MC at the reception, will be next. The former Black Cap is set to wed his fiancee, model Miller Rose, next March.
Guests supped Man O'War wines (from the Spencer winery) and danced all night (the groom was seen doing back spins) to the sounds of City of the Sun, a hipster street band from New York that the bride - a leading NYC art director - discovered busking on Manhattan's Union Square. The groom whisked them over as a romantic surprise gift for his beloved.
It was the first trip to New Zealand for the band, who also entertained friends and family the following day at a sumptuous BBQ on the lawn.
A tour next year is on the cards, said Peter Urlich, who was musical director at the wedding. Like the bride, he's got an eye for what's cool and he's keen to bring the buskers back for more Kiwi fans.