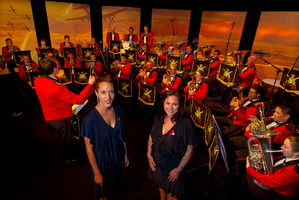 Pick of the week: Anzac Day Programmes
Unless you were up bright and early to go to the dawn service, or watching it on TV, then you may have already missed some of Maori Television's special Anzac programming.
However, commemorations continue throughout the day, including documentaries, tributes, films and concerts.
One of the most intriguing stories is documentary-maker Tainui Stephens' Hitler and the Gum Diggers - The Story of A Company at 11am. Inspired by a wartime photo of his great uncle, it looks at the history of the men from Ngapuhi who were part of the 28th Maori Battalion's A Company (aka the Gum Diggers).
"Many families have pictures of some old fulla on the wall who they know little about.
"Ours was the man who we've known only as Uncle Dick," says Stephens of his relation who was killed in action at Takrouna in Tunisia.
However, while it is a personal story, Stephens also wanted to document the history of the war in North Africa and Europe and the part A Company played in it.
He also talks to Gum Diggers Charlie Petera, Sol Te Whata and Selwyn Clarke, who are believed to be the only three of the company still alive.
Also in the documentary line-up, veteran broadcaster Cameron Bennett plays a major role in today's coverage starting with El Alamein: Line in the Sand (7am) which sees him travel to Egypt with 22 Kiwi veterans of the North Africa Campaign.
Also focused on North Africa is Bennett's Time Bomb - Legacy of the Land Mines (2.15pm) which looks at the effects mines laid during the war still have 70 years on. Also in this short but insightful "vignette", he talks to United Nations landmine expert Kerei Ruru, who most recently has been leading a clearance programme in Gaza, about the impact landmines have throughout the world.
Come evening, the Anzac Concert (8pm) sees singer-songwriters Anika Moa and Ria Hall join the New Zealand Army band in a special hour-long performance.
The set list is a diverse one with highlights including the classic World War II song E Pari Ra, the Vietnam Medley made up of a selection of rock songs led by Moa, and composer Michael Kamen's Requiem of a Soldier, which was the theme from television series Band of Brothers.
The concert will also see the premiere of Standing Next to Me, a song that was written by Kiwi soldier Dwayne Bloomfield for the Fallen Heroes Trust, which supports families of soldiers who have died in recent conflicts.
Other highlights during the day include The Final Hui - 28th Battalion Association (9.30am), an account of the decision to close this long-running veterans' association as the number of surviving members of the legendary battalion decreases.
Out of Afghanistan (10.35am) looks at New Zealand's involvement in the country over the past 10 years in light of the forthcoming withdrawal of Kiwi troops from the volatile area.
If you were at the dawn service this morning and feel like attending two in one day, the Gallipoli Dawn Service screens live from 2.30pm.
Local pick: Go Girls
At the end of season four, the Go Girls gang were growing up and settling down. So, as season five begins, fans have a new team of Go Girls to meet, and led by Britta's conniving younger sister Candy (Shara Connolly), they all have quests to announce.
Ted (George Mason) is the new narrator. Like his predecessor, Kevin, he's a happy-go-lucky bloke with a sensitive side - particularly when his former high-school teacher turns up. He lives with his younger, slightly hapless sister, Bennie (Tai Berdinner-Blades), and best friend from school, Levi (Leon Wadham), who is successful and self-assured. Then there's sweet, naive Alice (J.J. Fong), who's happily planning her wedding, though she's about to get some surprising news about her future husband.
When: Tuesday, 8.45pm
Where: TV2
What: A new gang and new quests
Wildlife picks: The Penguin King and Galapagos with David Attenborough
A British doco which follows one king penguin on its journey from bachelorhood to fatherhood, narrated by David Attenborough. Returning to his home on isolated South Georgia island, 900km from Antarctica, the young penguin has to find a mate and establish itself in a colony teeming with penguins and other, often threatening, wildlife such as elephant seals, giant petrels and orca.
The Galapagos Islands are the birthplace of Darwin's theory of evolution and the constant changes and stunning array of creatures have drawn Attenborough there to film a series which makes the most of time-lapse cameras and other cutting-edge video technology.
The Penguin King
When: Sunday, 8.35pm
Where: Prime
What: Return of the king
Galapagos with David Attenborough
When: Tuesday, 8.30pm
Where: TV One
What: Evolution in action
Drama pick: Blackout
Blackout is all about what British dramas do best: dark streets glistening with rain; a grim underbelly of crime and corruption; and anti-heroes who are as confused and disillusioned as they come. The three-part series stars Christopher Eccleston (the ninth Dr Who) as Daniel Demoys. He was once idealistic but is now a corrupt council official whose alcoholism is destroying his relationship with his wife and kids and causing him to have blackouts.
After he wakes, with bloodstained hands from a night of debauchery, it seems that he may have been involved in a murder. Before he can figure it out, events spiral and he finds himself thwarting a shooting. And the council wants him to run for mayor. Is it a second chance, or will the truth be unravelled by a determined police officer?
When: Tuesday, 8.30pm
Where: SoHo
What: From murderer to mayor
Reality pick: Killer Karaoke
Starting after The Voice Australia on Friday nights, this is a singing competition with a difference. Hosted by crazy Jack-Ass ringleader Steve-O, the contestants sing their favourite karaoke songs, hoping to win a $10,000 prize and possibly their 15 minutes of fame. But while they sing all sorts of nasty stuff happens. The challenges range from walking barefoot through piles of fish guts, having their legs hot-waxed, being danced on by large sweaty men, being dunked in a tank of snakes, and wearing shock-collars while trying to serve Steve-O dinner without spilling anything.
The contestants who deliver the most convincing performance progress to the next round, and the final showdown involves trying to stay on a small spinning disc.
When: Friday, 9pm
Where: TV2
What: Singing or screaming
- TimeOut