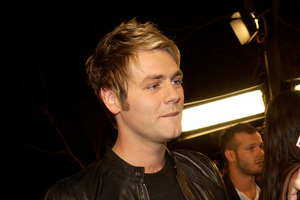 Former Australia's Got Talent judge Brian McFadden said he is delighted to be back on stage but would happily give it all up to become a stay-at-home dad.
The singer, 33, who has moved back to London with his wife Vogue Williams after a stint in Australia, said it was the experience of his first UK tour in eight years that persuaded them to come back.
"I think TV had made my music suffer. I'd spent all my time doing TV and promotion and not the thing I love, which is live performance," McFadden told Hello! Magazine.
McFadden was asked to present Australian reality TV show Football Superstar for pay-TV channel Fox8 in 2008. On the back of that, he was offered a judging role on Australia's Got Talent.
After splitting from fiancee Delta Goodrem in 2011, McFadden met Williams while in Australia. The couple, who married in Tuscany in September 2012, lived in Sydney for two years before making the move back to the UK.
"I think she (Williams) was probably getting a bit edgy in Australia, just being the two of us," McFadden said.
Since the move, McFadden has released a new album and has started touring again after supporting his mentor Ronan Keating this year.
"It was my first time touring in eight years and I didn't know how it was going to be," he said.
"When I got such a good response after the first few gigs, I thought if ever I was going to come back and put an album out and do a tour, this was obviously the time."
Williams, 27, said they would like to start a family.
McFadden has two daughters Molly, 11, and Lilly, 10, from his first marriage.
"I don't feel I'm in any rush, but it's one of the reasons I wanted to make a base here," he said.
"I think 30 would be a good age - I still have lots of things I want to achieve."
"I'd like to see Vogue concentrate on her career. I'd be happy to be a stay-at-home dad."
- PAA