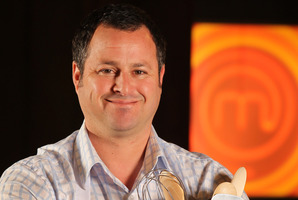 After a few champagnes one evening, Eliott Brookes, still strapped up with his microphone, asked for a tougher challenge on MasterChef New Zealand.
"I sort of set myself up for a fall," Brookes admitted.
Until then, the 29-year-old outspoken sports co-ordinator felt like he had glided through the competition, returning from a trip to Fiji and making the so-called "super seven".
But last night, he came undone in one of the toughest MasterChef challenges ever - perfecting the technique of "engastration" - essentially, stuffing one bird inside another and roasting it.
Wellington chef Martin Bosley presented the overwhelming task of a turduckenqua - a quail inside a chicken inside a duck inside a turkey - all the breasts surrounded with stuffing.
Contestants also had to prepare a pan gravy and suitable vegetable accompaniments in 2 hours.
"I wanted a challenge to find out if I was worthy of going through," Brookes said.
He was last to get his bird in the oven, and with time against him he cranked up the heat.
He presented a burnt bird with port jus, potatoes, asparagus, chestnuts and watercress salad.
"I was very, very close to not putting it up," he said.
"[But] not putting it up would have let my wife down. It's a cooking show, it's not a bloody cremation show. Which is what I did. I ruined the food," Brookes admitted.
Guest judge Bosley backed this up: "It's not good."
"The turkey is bone dry, the quail is terribly over-cooked to the point of being almost chalky ... the stuffing is really lacking seasoning. The sauce feels like the port wasn't cooked out enough, it's still slightly alcoholic. I've had better staff dinners."
Judge Ray McVinnie described it as a disaster.
"The whole thing does look a little bit like a roasted guinea pig."
Brookes admitted he doesn't like to follow a recipe and knew he'd made a mess of the meal, skipping vital steps and getting distracted.
"The hardest thing was that I kept getting the judges coming over talking to me."
Brookes thought he'd gone beneath the judge's radar for most of the series so far. But in this challenge there was an interesting connection - a very long time ago Bosley worked for Brookes' dad, who was also a chef.
"It was my turn to step in the firing line.
"I reckon the judges do target people. Every week someone has had the pressure put on them.
"I think they see a weakness and they go for it and see if you're man enough to cope with the pressure."
The judges probed him, asking if he was going to let his dad down in the kitchen.
"I just think it was a perfect little scenario."
Brookes still regrets turning up the heat in the oven and won't watch himself on the reality TV cooking show.
When he does, he struggles to get to sleep at night. "It's embarrassing."
* MasterChef New Zealand screens on TV One on Sunday nights. www.nzherald.co.nz will interview every contestant as they are eliminated.
Follow Life & Style Editor Nicky Park on Twitter and Instagram.