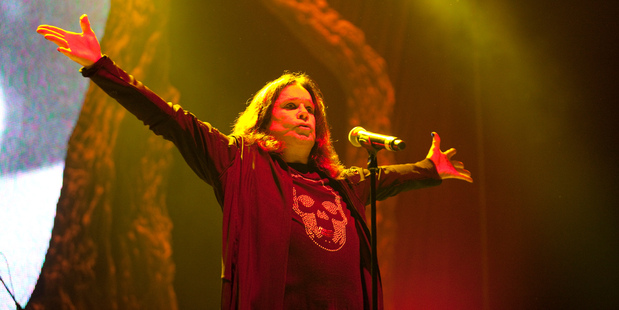 Heavy metal pioneers Black Sabbath hit the stage in Auckland last night for the first show of their world tour.
In the previous five days, bassist Geezer Butler enjoyed watching TV in his hotel room when not rehearsing for the Vector Arena gig.
"In New Zealand watching Mrs Brown's Boys, a bit like my family growing up, minus the swearing. Grand!" he tweeted.
Midweek, legend Ozzy Osbourne expressed fondness for Kiwi shores at a media event to share the new album 13. "What amazes me about New Zealand is that it's so much like England used to be from when we were kids," he said. "It's so English here - it's great!"
Osbourne's arrival coincided with overseas reports of marriage troubles with wife Sharon, a fellow reality TV star - and claims he'd been back on drugs and alcohol for a year and a half.
A tense interjection ensued when a journalist asked whether the singer was "okay" in light of recent events. Osbourne snapped that he is "still breathing".
Black Sabbath play Vector again tomorrow night before heading to Japan, Europe and North America, and 13 is scheduled for worldwide release on June 10.
Meanwhile, a Wanganui couple made it to last night's show despite a hotel booking blunder which meant they had to pay twice to stay in Auckland.
Newlyweds Tracey and Jay Bardell somehow booked two nights last month at the Celestion Waldorf Apartments Hotel.
Jay is a retail assistant and Tracey, 31, is a stay-at-home mum of two. They borrowed for their wedding on March 13 and saved for the tickets and honeymoon.
Jay admits he didn't read the confirmation email thoroughly, which noted the March dates at the bottom.
Waldorf reservations manager Toni Booth said the Bardells booked through a third-party website, hotels.com, which does not offer refunds for no-shows or early check-outs.
"Although we cannot offer Mr Bardell a refund, we sympathise with his position and can offer him a discounted rate at our St Martins property of $145 per night."
Jay was unimpressed by the offer. "It just sounds like they're telling us, 'Tough tits'," he said. "We've booked a new place at the Quest Carlaw Park in Parnell, who have been fantastic and are offering us a studio apartment for about the same money.
"We're just going to put this all behind us and try not to let it ruin what's left of our honeymoon."

- Additional reporting by Dan Jackson