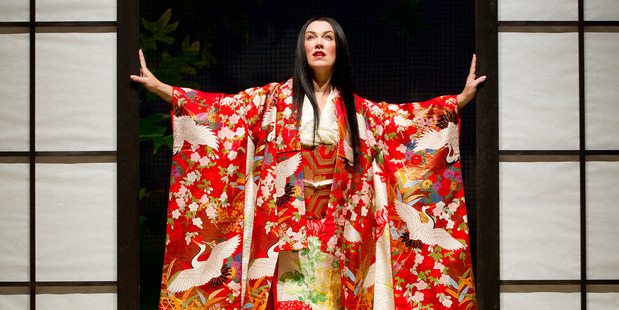 The promise of New Zealand Opera's Madame Butterfly has been with us for weeks, with striking images of the heroine on posters around town.
Australian director Kate Cherry presents one of the great operatic love stories, aware of its contemporary subtexts of cultural insensitivity and the subjugation of women. Inevitably, the visual focus is Christina Smith's malleable set of Butterfly's house, in which moving screens bring about constantly changing perspectives, heightened by Matt Scott's ingenious lighting.
Throughout, we are treated to varying glimpses of a spectacular garden backdrop and, by the end of the opera, Butterfly's dwelling has become a cage in which she must make her ultimate self-sacrifice.
Cherry has an astute eye for detail, from the family fluster in the opening act to the touching relationship between Butterfly and her son, played with charm by Finn Goodson.
Among several theatrical coups, descending lanterns in the first act inspire a gasp.
Antoinette Halloran, as Butterfly, is no assembly-line geisha. Her lustrous rendition of Un bel di vedremo contrasts with a driven, obsessive young woman who appears, for her final scenes, like a distraught second cousin of Donizetti's Lucia.
Halloran is a singer of intensity and power, but she can also make silence eloquent. She gazes at us, perhaps accusingly, through the exquisitely sung Humming Chorus and the following orchestral pages.
Piero Pretti injects Pinkerton with just the right caddish testosterone, delivered with a prime Italianate tenor.
Peter Savidge's Sharpless, the richest of the male characters, is particularly impressive in a later tableau, sharing the stage with Kate Pinkerton (the talented Bianca Andrew) and Butterfly with her child.
Lucy Schaufer's Suzuki is a joy. She handles her opening patter with such aplomb that it could be Jewish comedy, were it sung in Yiddish.
She has spirit, making a rugby field tackle on Goro (cleverly characterised by James Rodgers) and is agonisingly moving when she has to deal with the final domestic American invasion.
This music would be much less without the contribution of Auckland Philharmonic Orchestra, with conductor Tobias Ringborg showing why he claims Puccini to be his musical god.
Strings soar and, in the starker moments, details compel. The new Aotea acoustics make drums chillingly cavernous but, alas, also assist the distracting ping of plastic wine glasses as they fall on the hard panelled floor.

Music
What: Madame Butterfly
Where: Aotea Centre, to April 28