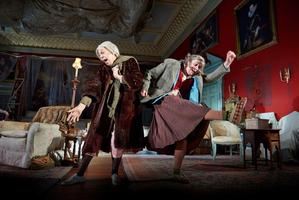 It lacks the intellectual heft of The History Boys but the new National Theatre Live* play from the withering pen of the ageless Alan Bennett is tidy and enjoyable entertainment.
The "people" of the title - the word should be pronounced with a tone of distaste - are the earnest visitors who will pour through Stacpoole House, a stately pile in South Yorkshire, if it is handed over to the National Trust.
That is the prospect faced by the penniless hereditary owner, Dorothy (de la Tour), who inhabits the crumbling building with her crumbling companion, Iris (Bassett). They have to fight off Dorothy's scheming sister June, a lesbian archdeacon (you get the drift); an oily auctioneer (Jupp); and the National Trust man (Le Prevost).
As director Hytner points out in a short introductory interview, the frequency with which the characters deny that the house is a metaphor for the nation ("I will not be metaphorised," booms Dorothy at one point) rather underlines the inescapability of that reading.
And there's no doubt that Bennett has in his sights the commodification of heritage - and everything else; June floats the fundraising idea of a "celebrity Eucharist" - in a post-Thatcherite Britain. The trouble is that he does so none too elegantly. The film feels at times like a rehearsal of ideas which, solid though they may be, are laid out a tad too explicitly. Matters become even more problematic in the second half when Dorothy opens the door to a porn-movie shoot and the play veers close to bawdy farce.
None of this is done badly and some if it is done very well indeed. De la Tour devours with relish a great juicy plum of a part, Egan as an (improbable) old flame is a great foil and the play is rich in belly-laughs.
It would be a stretch to describe it as Bennett at the top of his considerable game and it doesn't achieve the dizzy heights of recent NT Live shows, but it makes for good viewing anyhow.
Stars: 3.5/5
Cast: Frances de la Tour, Linda Bassett, Selena Cadell, Nicholas Le Prevost, Peter Egan, Miles Jupp
Director: Nicholas Hytner
Running time: 155 mins
Rating: E
* NT Live is a project of London's National Theatre in which productions are filmed and broadcast in real time to cinemas on both sides of the Atlantic. We get them here on hard drive a few weeks later. Screenings are very limited.
- TimeOut