With metal originals Black Sabbath in town, fan Scott Kara got a preview of their reunion album - the first in 35 years by the band's classic line-up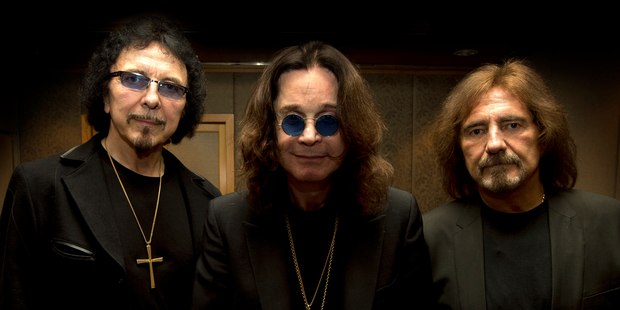 By rights, the new Black Sabbath album should be a cracker, in the vein of their classic early 70s albums.
For starters, by Ozzy's own admission he was back using drugs while recording 13, which, considering that was always a vital ingredient in the creation of heavy metal masterpieces like Paranoid (1970) and Master of Reality (1971), then it bodes well.
But on a more serious and technical level, says Osbourne, superstar producer Rick Rubin's starting point was the first two Sabbath albums [Black Sabbath and Paranoid].
"He was hellbent on taking us back to our roots on this one. He kept it basic," said Osbourne at the band's Auckland press conference.
Bass player Geezer Butler agreed: "It was like going back to the original live [recording] feeling we had on the first three albums, and [Rubin] said we were one of the few bands who could still do it live in the studio. So that's the way we did it."
And after one listen at a special preview of the eight-track, 50-minute long album ahead of its release on June 7, TimeOut can report it's heavy, beautiful, and haunting as only Sabbath can be.
So here it is, track-by-track ...
End of the Beginning
The first thing you notice - apart from Tony Iommi's glorious, grinding guitar licks, and the brain-rattling bass and rumbling drums - is that unique Sabbath tempo. For any other band it would sound plodding, but they somehow turn it into a fearsome lurch. While End of the Beginning is no War Pigs, it's an impressive epic that moves from foot-planting heaviness, to eerie tranquility, and then into one of Ozzy's tender serenades.
God Is Dead?
The first single off the album - which, at almost nine minutes and the longest on the record, isn't exactly radio friendly - comes creeping and crawling out of the speakers like a prowler. But then it rumbles and pummels its way to an early crescendo like a brawler. And you can't help but laugh and throw a cheeky heavy metal goat salute when Ozzy sings a line like, "Out of the gloom, I rise up out of my tomb, into the impending doom".
Loner
Basically, a straight-up riffing rocker, but in that distinct, perfectly-paced, 70s Sabbath style. It's on a song like this where it hits home that there is no other band that sound like this - and why, over the last 40 or so years, they have influenced everyone from Iron Maiden and Metallica to Nirvana and Foo Fighters.
Zeitgeist
This ballad starts out spacey and alien-like accompanied by an acoustic instrumental backdrop with Ozzy's spooky vocoder-style vocals in full effect. It has hints of Paranoid's moochy psychedelic beauty Planet Caravan, although Zeigeist is more folky than trippy. It makes for a reflective and lovely centrepiece to the album.
Age of Reason
This is where the album really starts to ratchet up, with Ozzy dueling vocally with the thumping drums and galactic guitars. It's one continuous graunching groove as the song escalates deeper and deeper into a maniacal place. While it whips up a melodic rock'n'roll maelstrom at times, it also transports you to a twisted and mangled place that modern day metallers Meshuggah might also lead you too. Fair to say it's one of the bruisers of the bunch.
Live Forever
The song where Ozzy shares his frustrated philosophy of life with the line, "I don't want to live forever, but I don't want to die". Which might make you laugh, but you have to admit, the Prince of Darkness is right on this one. Musically it's a thigh-slapping goodie, and if you're not careful, you're liable to put your neck out too, especially during Iommi's blazing brazen guitar solo.
Damaged Soul
Black Sabbath soul music anyone? Because it's not a psychedelic blues song, or a ballad, but somewhere in-between, kind of like heavy metal soul perhaps? That is before it escalates into tougher territory and settles into a stealth blues swagger. All of this and Ozzy still has time to ponder the predicament of "losing a battle between Satan and God".
Dear Father
They save the most devastating, harrowing, and Iron Man-like riffs for last on this rugged and bludgeoning seven minute finale. It's got the traditional heaviness, but it's somehow modern sounding which might just be the influence of new drummer Brad Wilk, formerly of Rage Against the Machine.
Osbourne said at the press conference that he sees 13 as continuing on from Sabbath Bloody Sabbath, the band's fifth album from 1973, which was arguably (and given their devout fans, this is risky to say) their last truly great record. And as 13 ends with a crack of thunder, a downpour of rain, and a tolling bell, you can't help but think that Sabbath really are back in business.
Who: Black Sabbath
What: New album, 13, released June 7
Playing: Vector Arena, tomorrow night (sold-out); Monday, tickets still available
- TimeOut