Feisty, fearless Zlata is back, bringing mayhem in her wake, writes Sarah Lang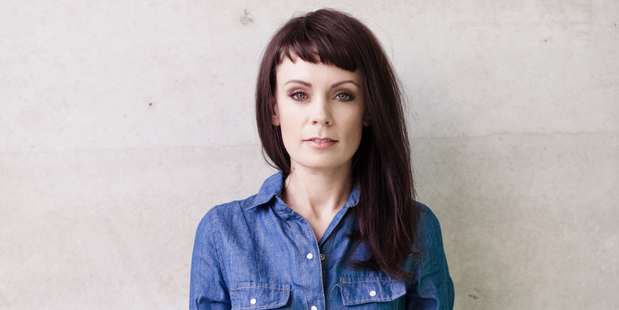 Kate Elliott can explain why she's slurring her words at lunchtime on a Friday. Back playing Zlata on Shortland Street, she's spent the morning speaking in a thick Eastern-European accent that takes time to shake off. "I can't get my mouth to act the old way."
It was 2011 when Elliott first played the feisty, fearless Romanian, who burst into the clinic as the fiancee of unlucky-in-love Dr Luke Durville (Gerald Urquhart) and got a job as receptionist. After four months planning the wedding, Luke's Gothic-looking "vampire bride" discovered he'd fallen for colleague Bella (Amelia Reid), and left - incredibly graciously - to return to Romania.
Now she's back. In Friday night's episode, Zlata knocks on the door of Luke's widow Bella with a baby in her arms. She claims she didn't know Luke had died (of a brain tumour) and that she just wanted him to see his son, Luca.
But where Zlata goes, drama follows. It's no surprise that the woman who once had Luke pay her family's questionable expenses now wants a cut of Luke's estate for Luca.
Bella's family is dubious about Zlata's motives, especially given her apparent lack of affection for the baby. Expect Zlata and Bella to battle over Luca's future.
Elliott excels in this subtly comic role where the humour comes from cultural differences: first, it was the juxtaposition between forceful Catholic Zlata and biddable, occult-loving Luke. Now it's the interaction between ditzy, warm-hearted dreamer Bella in her rainbow outfits and hard-headed pragmatist Zlata in her head-to-toe black.
"Amelia and I are great mates and we have fun playing off each other," Elliott says. "I like the comedy underneath the lines."
She also enjoys Zlata's directness, frankness and complexity, and is endearingly defensive about her character's aspirations: money, marriage and status. "That's her truth, her reality - it's what she needs to have a happy life."
Though she knew Zlata was well liked, Elliott was pleasantly surprised to be invited to reprise the role. Before her first stint, she'd long wanted to appear on the soap she watched religiously as a child. It's a New Zealand institution and so many famous actors have done their stint on Shortland Street. It's a rite of passage and it felt like I was missing out a bit."
So the award-winning actress rocked up like any other hopeful to audition for the part of Zlata. At first, she found the fast-turnaround television a huge challenge.
"It's a completely new skill base, a completely new way of acting, so it took me a couple of weeks to get into the swing, especially learning lines so quickly. There's no down-time. Shortland Street is a team, a machine, with the intensity of a sports game: you start the day and you're in there, full on, until you're not."
When the guest role is over, Elliott will return to Los Angeles, where she's lived for a year with musician husband Milan Borich and their 4-year-old daughter. And while motherhood has been her most demanding role of late, she's still chasing career goals.
"HBO drama, all the way. Other than that, to work with interesting people and keep myself challenged."

Shortland Street screens at 7pm, weeknights, TV2.