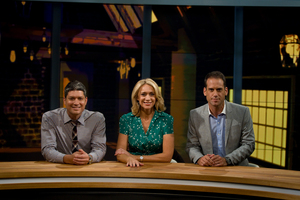 TVNZ current affairs show Seven Sharp is making a comeback with viewers.
The show's February debut fronted by Ali Mau, Greg Boyed and Jesse Mulligan replaced the long-running Close Up with a new format incorporating greater use of social media and humour.
But the concept appeared to backfire, with viewers jumping ship and numbers falling by 55,000 after its first week.
Its rival, TV3's Campbell Live, enjoyed the fallout, with its viewership soaring by 69,000 the following week as it stuck to its traditional news base. But the most recent figures from Nielsen Television Audience Measurement show viewers are returning to TVNZ's 7pm slot.
Last week, 394,700 viewers tuned in - an increase of more than 46,000 viewers from the weakest ratings week in March, which drew 348,600 viewers.
Seven Sharp also had its highest percentage of audience - 9.6 per cent of viewers aged over 5 - since its inception.
This is more than Campbell Live, which is holding steady on 7.5 per cent, but down on the 10.2 per cent Close Up had in March last year.
Close Up, hosted by Mark Sainsbury, averaged 456,000 viewers a night last year.
Media commentator Brian Edwards, who was initially critical of Seven Sharp, said the surge in ratings could be because viewers now had a genuine choice of alternative programme styles.
Campbell Live and Close Up were relatively similar in format, style and the sort of topics they covered but the TV3 show and Seven Sharp were totally different.
"For the most part Campbell Live deals with serious issues in a serious tone," he said.
"Seven Sharp's fare is considerably lighter and approached in a more lighthearted way.
"Unsurprisingly its appeal is to viewers who want to be entertained rather than viewers who want to be informed."
TVNZ spokeswoman Megan Richards said Seven Sharp was built around the concept of friends having an after work get-together and chatting over topical subjects of all sorts and people were giving it a go.
"We believe we are absolutely on the right track in terms of this being the type of show viewers want to see at 7pm."
"It is a time when they are transitioning from work and family and kids to relaxation and entertainment. So they don't want more of the same."
Ms Richards said the high interest surrounding the programme's launch was predictable given the intense media scrutiny but the format for Seven Sharp would be flexible and not formulaic.
"It's still early days and it will take many more months to years before the show reaches its full potential."