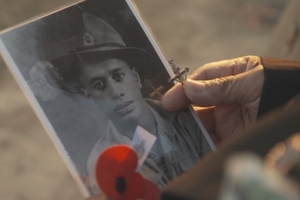 Maori Television will have full Anzac Day coverage next Thursday, starting with the dawn service from Auckland Museum at 5.50am, hosted by Judy Bailey and Julian Wilcox.
Other early morning highlights include El Alamein: A Line in the Sand at 7am, a documentary directed and presented by veteran broadcaster Cameron Bennett who accompanied 22 Kiwi veterans from the North Africa Campaign as they returned to Egypt last year. This is followed at 8am by The Desert War, the story of New Zealand's role in that campaign and at 9am Kiwis at War profiles Victoria Cross recipient Sir Charles Upham.
Later in the day the Gallipoli Dawn Service is live from 2.30pm and the Anzac Concert 2013 (8pm) features the New Zealand Army Band accompanied by singer-songwriters Anika Moa and Ria Hall.
Meanwhile, TV One's Breakfast will also be broadcasting live from 6am at the dawn service and at 10.30am there is live coverage of the National Commemorative Service from Wellington.
- TimeOut