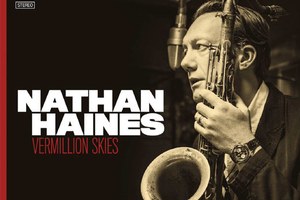 Following his highly successful 60s-framed The Poet's Embrace, jazz saxophonist Haines continues in a similar vein but expands the parameters (the ballad Lady Lywa a model of crafted economy) and works with a large ensemble on a stately expansion of J.J. Johnson's midnight ballad Lament, arranged and conducted by Wayne Senior.
Some of Haines' previous vocal pieces have been less attractive (the anaemic First Light here doesn't cut it) but the slinky Navarino Street finds him in excellent voice. The piano solo by Kevin Field confirms again he can turn his hand to just about any idiom in jazz. Good also to hear Haines' brother Joel's distinctive guitar in places too.
Some found The Poet's Embrace tame and doubtless the same criticisms will be made about this because of the high ballad quotient. But it is often swinging, sophisticated band music (check Five Dimensions) where restraint and economy is part of the contract. That said, we might hope he pushes himself next time - as on Frontier West here - otherwise the momentum of this career re-evaluation will be lost.
This is within a tradition but Haines and his fellows have delivered something that, though erring towards the pleasant, creates a contemporary niche for itself.
Stars: 3.5/5
Verdict: Measured follow-up on the back-to-jazz career path
Click here to buy Vermillion Skies by Nathan Haines.
- elsewhere.co.nz