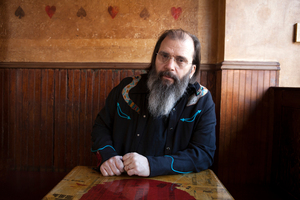 The final track on this - Earle's 15th studio album - is Remember Me, a moving message to his child who might never see him when grown. Earle, now 58 and with a 3-year old, knows this possibility and such honest emotion (sometimes fuelled by political anger) has been a hallmark of a career that looked finished in the mid-90s when he was jailed for drug and weapon possession.
He's had a remarkable life since, however - respected writer, actor, activist and a musician with a broad portfolio of albums - so he has a deep well to draw from. Here he gets into character in the front seat of a pick-up truck looking at small-town dreams gone sour (Burn It Down), Dylanesque rock (Calico County isn't far from Subterranean Homesick Blues but with working class references), Americana folk (the title track connecting to Woody Guthrie's dustbowl ballads about the dispossessed and abandoned), comes off like country-fried Cobain on Invisible and rocks out (the New Orleans-cum-rockabilly That's All I've Got with actress Lucia Micarelli from Treme in which he appears as the musical mentor for her character).
Earle's travelled these byways before but he's always a welcome visitor carrying stories, truths and memorable songs.
Stars: 4/5
Verdict: The irrepressible voice from America's damaged heartland
Click here to purchase The Low Highway by Steve Earle.
- TimeOut / elsewhere.co.nz