As he returns to Auckland, genre-blending Brit rapper Example talks to Scott Kara about being a jack-of-all-trades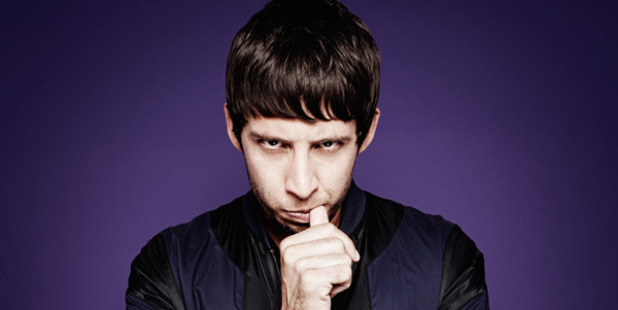 He's done a hip-hop album, a dance-rave record, and British singer, rapper, and dance pop musician Example's latest release was his "rock album", inspired by everyone from U2 and Nirvana to Metallica and Slayer.
For his next one he wants to hark back to the heyday of the Prodigy and make a 90s rave record.
"I've always been a big fan of the Prodigy, and I've never really tried any breakbeat sounds so that's what I'm going to go for," says Example (real name Elliot Gleave) in his casual, confident lilt on the phone from London ahead of his return to New Zealand next week.
The 30-year-old was last here in summer when, as well as holidaying around the North Island, he played at the Waihi Beach Hotel. But his show at the Logan Campbell Centre on Wednesday is a real-deal Example show, with a full live band.
The 90s rave record may sound a little passe (or perhaps it's old enough to be cool again?), but if anyone can make it work, Gleave can, because after eight years of making music he's become a jack-of-all trades and has some of the best hook-ups across dance, pop and bass music.
Dubstep stalwarts Benga and Skream are two collaborators he admires, and last year he worked with chart-topping dance pop king Calvin Harris ("He's just really technically good. And he writes pop songs with ease.") on the producer's mid-2012 single We'll Be Coming Back.
And on The Evolution of Man, where he puts his electro dance take on rock songs, including the banging and unsettling Are You Sitting Comfortably, inspired by Slayer and Snakeskin ("my homage to Nirvana"), he worked with guitarist Graham Coxon of Blur, a band Gleave idolises.
"I don't really know him that well but it was a dream come true getting him on the album. The first time I met him, I said, 'do you want to play on the album?' The second time I met him I went to his house and played him most of the album. And the third time I met him, he recorded on the album.
"So it wasn't like this big, long relationship or collaboration. But it was good fun. And if you want to make a rock album then it's nice to be able to get one of the best guitarists in the world to play on it."
What makes Gleave unique is that rather than being a producer in the vein of dance pop leaders like Harris or David Guetta, he is primarily a singer and rapper. "I know what you mean. There's not really a vocalist in the electronic world doing what I'm doing. But I've been making music now for eight years and for me, now, I know what I've got to do to make a good track."
It was with his third album, Playing in the Shadows, that he hit the big time with the pulsing and escalating epic Changed the Way You Kissed Me from 2011. That was his party album, whereas The Evolution of Man is his more mature, grown-up album.
"It's about not behaving like a kid. It's an apology to an ex-girlfriend, or my parents, or people I've let down. Basically, stop behaving like a dickhead."
And this reformed dickhead is also an ambitious one whose strong work ethic comes from always having after-school and holiday jobs.
"I've always known the value of hard work so that's why, even now, whenever I'm offered a gig I take it. It doesn't matter where it is in the world, I will say yes. It's a dream, man, and I still can't believe people want to come and see me.
"And on a scale of one to 10 - 10 being the end of my career - I'd say I was about four or five. Because in the UK I can headline festivals and play arenas, but until I can do that all over Europe and in Australia and New Zealand, I'm not really going to be content."
Who: Example, real name Elliot Gleave
What: Genre-mashing electronic dance pop musician and vocalist
Where and when: Logan Campbell Centre, Wednesday
Listen to: What We Made (2007); Won't Go Quietly (2010); Playing in the Shadows (2011); The Evolution of Man (2012)
- TimeOut